Environment Minister highlights dangers of pollution in waterways
Environment Minister Edwin Poots MLA has reminded farmers, businesses and members of the public of the need to be extra careful to avoid pollution of local waterways.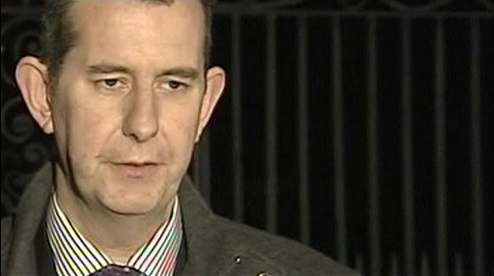 Following a number of recent pollution incidents, Minister Poots visited the Glenavy River in County Antrim and met with representatives of the local angling club to discuss their concerns following a significant fish kill in May.
A further pollution incident affected the Grange River in Derry.
Speaking to Newry Times, Minister Poots said, "During the Covid-19 crisis a lot of people have taken the opportunity to carry out DIY work in their homes.
"It is vitally important that no matter what tasks we are undertaking that we ensure that only rain and surface water goes into the storm or surface water drains.
"You must use the foul sewer to dispose of wastewater, which is connected to a wastewater treatment works and not the local river," he explained.
This is also a particularly busy time for farmers and the Minster highlighted the serious impact slurry and silage spills can have.
"Today I have met with the local angling club who fish on the Glenavy River to discuss a recent pollution incident and the effect it has had on the wildlife and environment.
"Farmers are continuing to work right through this pandemic to keep our supermarket shelves stocked.
"It is essential however that when working, in particular with slurry or silage, that farmers take the time to check that their tanks and stores are in good condition and that no effluent reaches pipes or drains leading to waterways. 
"Pollution affects everyone and has lasting damaging effects on our environment.
"I would, therefore, urge businesses, farmers and the public to be extra careful when carrying out any work that could potentially result in polluting our waterways."
As a goodwill gesture to the Glenavy Conservation and District Angling Club, Minister Poots has asked DAERA Inland Fisheries to provide some brown trout for the river once water levels are higher.
He added, "I recognise the significant benefit that fishing provides for people's mental and physical well-being in this time of uncertainty which is why I was keen to see the Public Angling Estate opened as soon as it was deemed safe to do so.
"While I am aware this release of fish will not replace the effort the club has put into their local river, I hope it will allow them to have some enjoyment from their sport this year and have tight lines, while following the social distancing and good practice guidelines."
To report any incidents of pollution please contact the 24hr Pollution Hotline on 0800 80 70 60.
___________________________________
Dear Newry Times reader,
Newry Times has been providing the latest breaking news in Newry and Mourne for nearly ten years now and today we're asking for your help to keep us doing the jobs we love.
Newry Times relies on advertising from local businesses, local Councils, and hospitality businesses.
During the Covid-19 Pandemic all advertising has ceased.
Your contribution, however small, will go towards revamping the Newry Times website to keep it engaging, informative and high quality.
It will help us pay for freelance journalists and photographers and ultimately help us to continue to provide breaking news to you, our 14,000+ readers.
We will always keep our news content free of charge for everyone in Newry & Mourne to read and we promise to always cover stories that matter to you.
Any donation, no matter how small, is greatly appreciated.
Paul Malone, Newry Times Editor
Short URL: https://newrytimes.com/?p=71410
Posted by
NewryTimes News
on Jun 10 2020. Filed under
Politics
. You can follow any responses to this entry through the
RSS 2.0
. Both comments and pings are currently closed.