Quarry water is a "stone cold killer, stay out – stay alive"
DAERA Minister Edwin Poots has relaunched his Department's Stone Cold Killer campaign and issued a warning to the general public about the dangers of swimming in disused quarries.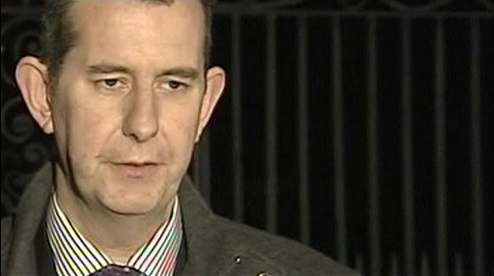 The move comes after a series of reports about individuals swimming in local quarries, which are known to have taken the lives of a number of young people.
Minister of Agriculture, Environment and Rural Affairs, Edwin Poots MLA said, "It is desperately sad to hear of the tragic loss of young people in these dangerous quarries and I want to prevent further avoidable loss of life. 
"As the weather improves, and with schools and some leisure facilities largely remaining closed, I am concerned there is an increased risk of deaths in disused quarries this year.
"For this reason I am asking parents to talk to their children about where they are going, and warn them of the dangers associated with visiting such sites.
"I too, am a parent and appreciate the difficulties that many families across Northern Ireland are experiencing at the present time, but I urge you all to raise this issue with your children and teenagers.
"Quarries are not playgrounds," he warned.
"Quarry lakes, in particular, pose a considerable risk as they are often much colder than rivers, lakes and reservoirs as they can be fed by water sources that originate deep underground.
"A sudden plunge into cold water initiates a gasp response, which can cause drowning within seconds.
"Quarry water really is a stone-cold killer.
Minister Poots added, "My message is clear. Stay out. Stay alive."
___________________________________
Dear Newry Times reader,
Newry Times has been providing the latest breaking news in Newry and Mourne for nearly ten years now and today we're asking for your help to keep us doing the jobs we love.
Newry Times relies on advertising from local businesses, local Councils, and hospitality businesses.
During the Covid-19 Pandemic all advertising has ceased.
Your contribution, however small, will go towards revamping the Newry Times website to keep it engaging, informative and high quality.
It will help us pay for freelance journalists and photographers and ultimately help us to continue to provide breaking news to you, our 14,000+ readers.
We will always keep our news content free of charge for everyone in Newry & Mourne to read and we promise to always cover stories that matter to you.
Any donation, no matter how small, is greatly appreciated.
Paul Malone, Newry Times Editor
Short URL: https://newrytimes.com/?p=71384
Posted by
NewryTimes News
on Jun 9 2020. Filed under
Community
. You can follow any responses to this entry through the
RSS 2.0
. You can leave a response or trackback to this entry