Silver award for Newry engineering company
Newry specialist precision engineering and composite finishing company, Exact Group, has become the first-ever company in Ireland to enter the esteemed Aerospace Supply Chain Programme, SC21, with a Silver Award on its first engagement.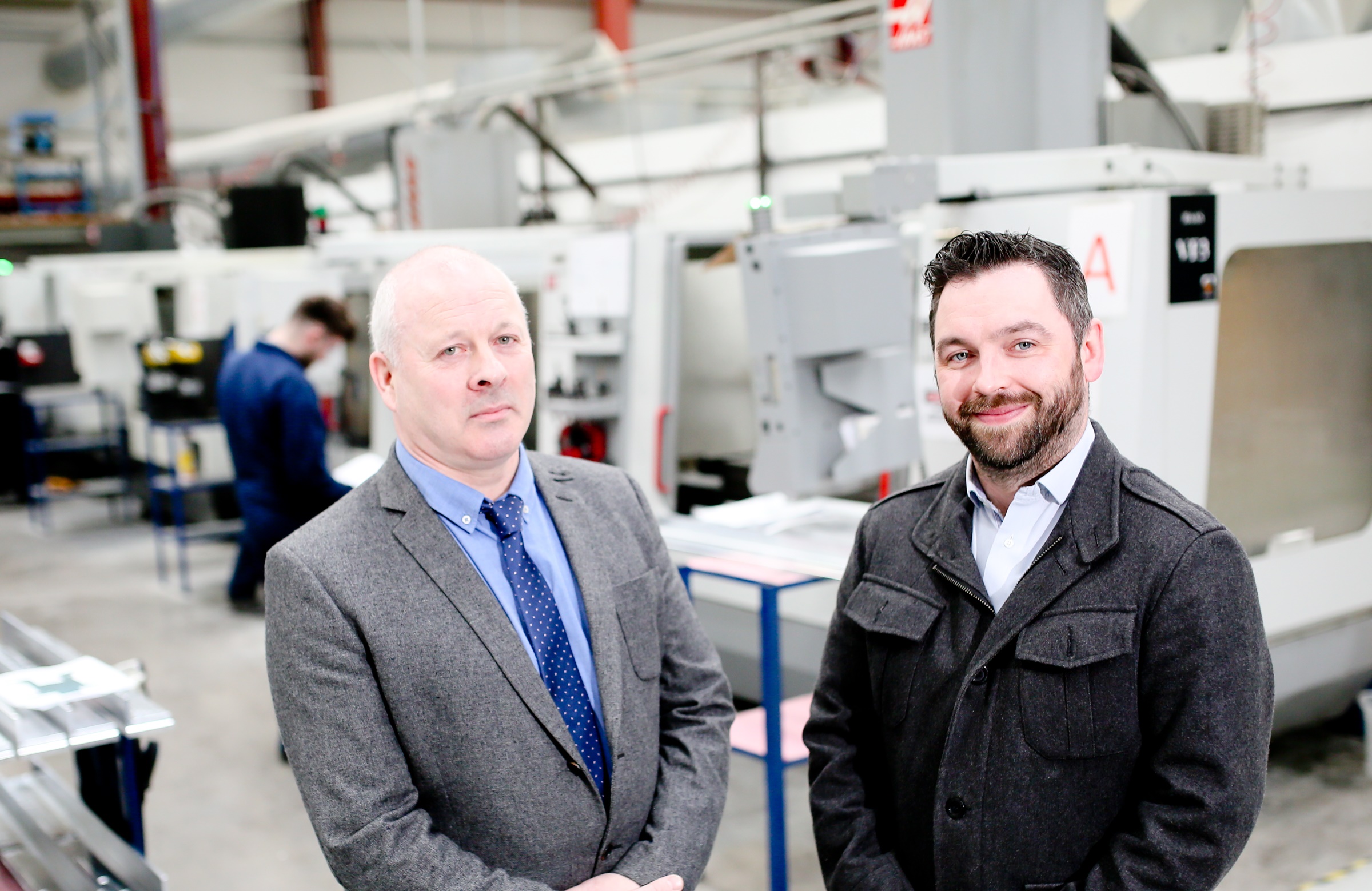 The generic route for companies entering the programme is with the accreditation of a Bronze award, before progressing to Silver.
The Newry company is sponsored through the programme by Collins Aerospace (formerly B/E Aerospace), a unit of Raytheon Technologies, which is a leader in technologically advanced and intelligent solutions for the global aerospace.
With a wealth of precision engineering experience, coupled with cutting edge equipment and techniques, the Exact Group is known widely for their quality, performance and delivery, particularly their rapid response unit.
Speaking to Newry Times, Managing Director of Exact Group, Stephen Cromie, spoke of his delight, "I'm very proud of the Exact Group team.
"Going directly to SC21 Silver is testament to the amazing work of Operations Director, Richard Hughes, and my team and is quite an achievement, one which reflects our commitment to excellence, dedication to best practice and high-quality manufacturing.
"I would also like to acknowledge the support of Invest NI and ADS throughout this programme, which has been instrumental to our success," he added.
SC21 is one of the largest supply chain improvement programmes in the UK's aerospace and defence sector.
Managed by ADS on a national and international level, the change programme is designed to accelerate the competitiveness of the aerospace and defence industry, by raising the performance of its supply chain.
The SC21 programme is based on companies following a framework to achieve and maintain set criteria within areas including Business Excellence; Manufacturing Excellence; Relationship Excellence, and Quality and Delivery performance.
Dr Leslie Orr, Director of ADS NI, said, "Northern Ireland is home to a powerhouse of advance engineering companies, which is responsible for delivering almost £2Bn in annual sales, of which 90% are sold outside Northern Ireland.
"The Exact Group is one such company in that integrated supply chain and their direct entry at SC21 Silver is recognition of their tremendous record of quality, performance, lead times and delivery.
"Given the current uncertain climate, this SC21 recognition will only serve to strengthen the company's relationships with its customers in the aerospace sector and beyond. Well done to Stephen (Cromie) and his team," she added.
Invest Northern Ireland, as a regional partner, has remained committed to the programme and continues to support local companies to progress them on their SC21 journey. 
Working in partnership with ADS and the industry, Invest NI is encouraging best practice and increased competitiveness across the supply base, underpinned by a culture of continuous improvement.
Bill Montgomery, Invest NI's Director of Advanced Manufacturing & Engineering said, "Achieving SC21 Silver Accreditation is an outstanding achievement for the Exact Group and is testament to its hard work and commitment to grow its reputation in the global aerospace industry.
"We have a well-established relationship with the company and have supported it across a range of areas including skills development and consultancy support towards achieving the award.
"We look forward to seeing the future benefits of this achievement and we would encourage other local companies to participate in the SC21 Programme, to help increase global competitiveness in these very challenging times," he added.
This award adds to the Exact Groups' portfolio of industry-recognised accreditations: ISO 9001 and AS9100.
___________________________________
Dear Newry Times reader,
Newry Times has been providing the latest breaking news in Newry and Mourne for nearly ten years now and today we're asking for your help to keep us doing the jobs we love.
Newry Times relies on advertising from local businesses, local Councils, and hospitality businesses.
During the Covid-19 Pandemic all advertising has ceased.
Your contribution, however small, will go towards revamping the Newry Times website to keep it engaging, informative and high quality.
It will help us pay for freelance journalists and photographers and ultimately help us to continue to provide breaking news to you, our 14,000+ readers.
We will always keep our news content free of charge for everyone in Newry & Mourne to read and we promise to always cover stories that matter to you.
Any donation, no matter how small, is greatly appreciated.
Paul Malone, Newry Times Editor
Short URL: https://newrytimes.com/?p=71272
Posted by
NewryTimes News
on Jun 5 2020. Filed under
Business
. You can follow any responses to this entry through the
RSS 2.0
. You can leave a response or trackback to this entry