Newry McDonald's Drive-Thru reopens today
Today Newry McDonald's will reopen for Drive Thru with new measures in place to help keep employees and customers safe.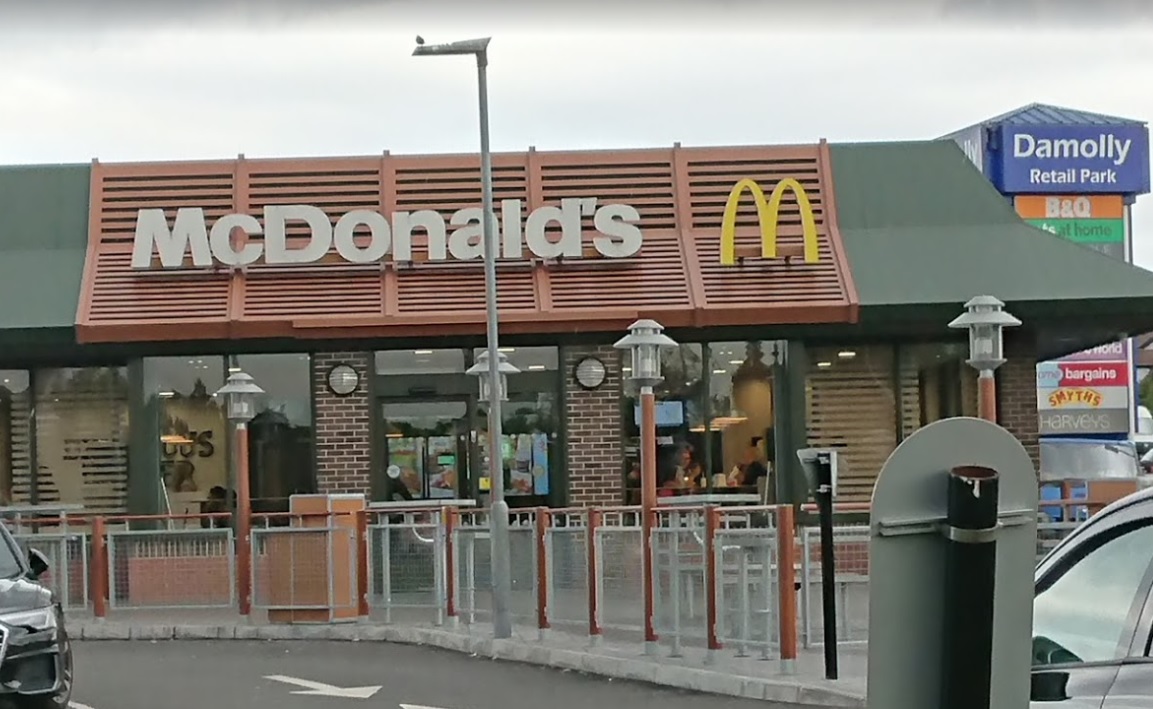 This follows a successful pilot in May.
McDelivery will also become available from the restaurants on 10 June.
With restaurant teams adjusting to new procedures to enable safe working and social distancing, things may take a little longer – and high demand is anticipated.
McDonald's and its franchisees are working closely with local authorities and the police and may determine that it is necessary to close Drive-Thru lanes if queues cause disruption at busier sites or put employees or customers at risk.
To help create a safe experience for everyone, McDonald's has introduced a number of changes to their restaurants, including: Social distancing has been introduced in the kitchens and service areas to help create a safe working environment for restaurant teams.
Perspex screens at Drive Thru windows and employees wearing protective equipment, as well as Perspex screens and floor markings in specific areas in the restaurant and kitchen.
All McDonald's employees will be asked to confirm they are fit and able to work and contactless thermometers will be used to take employee temperatures on arrival at work for every shift.
Other changes include ensuring their delivery procedures with couriers are contactless for both their people and customers.
Restaurants will return with smaller teams, offering a limited menu and operating reduced hours.
Another measure includes encouraging capped spend for Drive-Thru and McDelivery at £25 per order, and customers are encouraged to pay by contactless payment methods,
For those visiting Drive-Thrus, customers can browse the menu, order and pay ahead using the My McDonald's App.
Speaking to Newry Times, Agriculture Minister Edwin Poots MLA said, "The reopening of McDonald's is very encouraging and welcome news for our beef and dairy sectors.
"Fast food outlets purchase large quantities of produce from our farmers and their temporary closure had a big impact on the agri-food sector.
"They have gone to great lengths to put in place social distancing measures that will protect their staff and their customers.
"The importance of getting this market open and moving again cannot be underestimated and will be a relief for many of those who supply McDonald's with their high-quality, locally reared beef and dairy produce.
"As we move into recovery after COVID-19, my priority has been and will continue to be, ensuring that we have a profitable and sustainable agriculture sector that is ready and able to meet the rising demands of the market once it opens fully again," he added."
As employees and the business adapt to a new way of working, McDonald's would like to thank customers for their continued support and patience.
Between 2 and 4 June 28 McDonald's restaurants will be open in Northern Ireland, either for Drive-Thru or McDelivery.
Restaurants opening will be published each day and can be found on our restaurant locator here.
___________________________________
Dear Newry Times reader,
Newry Times has been providing the latest breaking news in Newry and Mourne for nearly ten years now and today we're asking for your help to keep us doing the jobs we love.
Newry Times relies on advertising from local businesses, local Councils, and hospitality businesses.
During the Covid-19 Pandemic all advertising has ceased.
Your contribution, however small, will go towards revamping the Newry Times website to keep it engaging, informative and high quality.
It will help us pay for freelance journalists and photographers and ultimately help us to continue to provide breaking news to you, our 14,000+ readers.
We will always keep our news content free of charge for everyone in Newry & Mourne to read and we promise to always cover stories that matter to you.
Any donation, no matter how small, is greatly appreciated.
Paul Malone, Newry Times Editor
Short URL: https://newrytimes.com/?p=71403
Posted by
NewryTimes News
on Jun 3 2020. Filed under
Business
,
Community
. You can follow any responses to this entry through the
RSS 2.0
. You can leave a response or trackback to this entry