Coronavirus Northern Ireland: 10 top tips for safer shopping during pandemic
The Public Health Agency (PHA) has issued public advice to help make shopping trips safer during the coronavirus pandemic, and reassure shoppers about how to look after themselves while picking up essentials.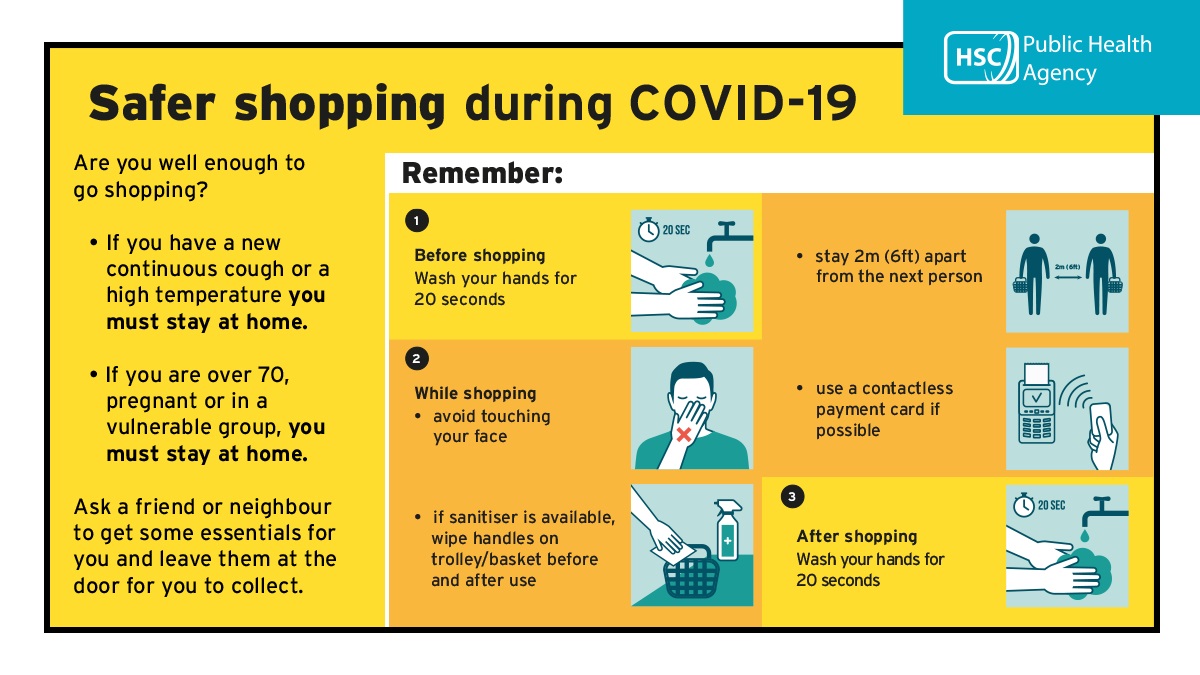 Dr Gerry Waldron, Head of Health Protection at the PHA, told Newry Times, "While the message is to stay at home, clearly there is a need to do shopping for food and other essential supplies when necessary.
"For many people who are rightly socially distancing and following guidance, going to a shop at the minute can be quite stressful, as it can mean touching communal surfaces such as trolleys and baskets, and being indoors with other people who aren't members of your household.
"However, by following some simple steps, you can help protect yourself and others when shopping, and also take some of the worry out of a trip to pick up supplies.
"Firstly, consider whether you are well enough to go shopping in the first place.
"If you have a new continuous cough or a high temperature, you need to stay at home.
"If you are over 70, pregnant or in a vulnerable group, you also need to stay at home.
"If you are unwell, or fall into a higher risk group, ask a friend or neighbour to get some essentials for you and leave them at the door for you to collect.
"You may be able to get an online delivery slot with a larger supermarket, or ring through a delivery order from a local supermarket or food retailer such as a greengrocer.
"If you are well and are going shopping, help protect yourself and others by taking some simple, common-sense steps," he continued.
Top tips
* Try to reduce the number of shopping trips to once a week.
* Avoid taking children or other family members to the shop.
* Try to shop at off-peak times.
* Try to go to quieter local shops or arrange with local shops for collection or deliveries. Many smaller shops are now offering local deliveries.
* Make a shopping list and buy enough in one shopping trip to feed your family for seven days – the PHA has produced a meal planner as part of its new booklet 'Advice on safer shopping during COVID-19'.
* Could you manage without certain items and make do? For example, you could try making your own bread or simply using up food in the cupboard or freezer.
* Make a note of what items you have and when they will go out of date so you can use them in date order and avoid waste.
* Use your freezer to store perishable items such as bread and meats.
* Don't stockpile items you don't need – think of others who may need them.
* Can you get essentials for someone you know in a vulnerable group and leave them at their door?
Dr Waldron continued, "The same general advice for reducing the spread of coronavirus also applies when going shopping.
"Before you go, wash your hands for 20 seconds.
"During your shopping trip avoid touching your face; use a contactless payment card if possible; maintain social distancing – stay 2m (around 6ft) apart from the next person, and wipe down the handles of your trolley or basket before and after use with sanitiser or a disinfectant wipe.
"After your shopping trip, wash your hands again for 20 seconds or use hand sanitiser if you can't.
"Aside from reducing the spread of coronavirus, it is also important to look after our mental wellbeing during the pandemic, so by following these steps we can both minimise the risk from COVID-19 and also reduce our stress when undertaking essential shopping trips."
The PHA has produced a leaflet with advice for the public, as well as posters in a range of languages for retail outlets, which are available at www.pha.site/safershopping
Short URL: https://newrytimes.com/?p=70761
Posted by
NewryTimes News
on May 7 2020. Filed under
Coronavirus
. You can follow any responses to this entry through the
RSS 2.0
. You can leave a response or trackback to this entry