Newry boxing club benefits from heathy eating initiative
Posted by
Newry Times News
info@newrytimes.com
Thursday, March 22nd, 2018
Community
,
Sport
The Southern Health and Social Care Trust has delivered a six-week healthy eating initiative to members of the Sacred Heart Boxing Club in Newry.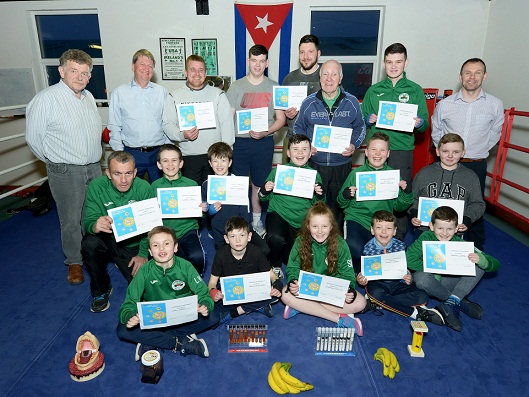 The aim of the programme was to provide nutritional information to the club members in order to improve their health and wellbeing and in turn complement their boxing skills.
The programme, based on the Goodfood Toolkit and the Eatwell Guide, was delivered by Sean Collins Promoting Wellbeing Support Worker within Southern Trust to 16 young boxers aged 8 years plus. 
Fergal O'Brien, Trust Promoting Wellbeing Manager for the Newry & Mourne area explained, "The participants learned about food groups and the role each plays in their lives, with this information they are then able to make healthier choices from understanding food labels."
He added, "Encouraging people to eat regular meals and work towards eating at least 5 portions of fruit and vegetables a day is a key healthy eating message."
Knowledge and eating habits before and after the programme were measured. Some of the findings included:
– At the beginning of the programme, 50% of the boxers had breakfast every day compared to 67% at the end of the programme.
– 44% of the boxers had a fibre based breakfast compared to 54% at the end.
– 19% of the boxers ate 2-3 portions of fruit and vegetable a day compared to 75% by the end. For those who reported not eating any fruit or vegetables a day at the start of the programme, this rose to 17%.
Sean Collins, Promoting Wellbeing Support Worker commented, "Overall the programme has been a great success and the results demonstrate this. The young people wanted to learn how to eat healthier and parents have realised that healthy eating is very important for them and their children.
"I would also like to thank Tesco Newry who generously provided free fruit for the programme to encourage healthy eating."
Sean, aged 9, took part in the programme and said, "The programme was brilliant! I now know the different food groups and why we need them, like carbohydrates give us energy."
Denis, aged 29, also benefitted from the programme and said, "I have changed some of my eating habits because of what I have learned through the programme and I feel a lot better and fitter for it."
Seamus McCormick, founder and trainer of the Sacred Heart Boxing Club said, "This programme was very good in helping the members of the club eat healthier and change their eating habits. It was also very beneficial for the parents to receive information on different food groups and gain knowledge on healthy eating."
The 'goodfood toolkit' has been developed to enable community workers who are trained by the Southern Trust Cook it! Team Dietitians, to provide appropriate healthy eating messages within communities.
For further information on the goodfood toolkit please contact the Cook it! Team on cookit@southerntrust.hscni.net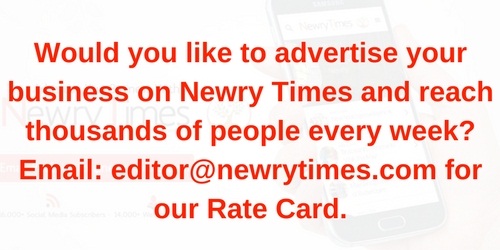 Both comments and pings are currently closed.