14,000 read Newry Times. Target them today
Posted by
Newry Times News
info@newrytimes.com
Sunday, August 20th, 2017
Advertising Feature
,
Business
,
Community
,
Featured Story
This week we're reflecting with a sense of nostalgia on where we've come from, where we are right now and where we're going.

Perhaps it's ironically appropriate that the UK Number 1 song when we officially launched the Newry Times website on 1st November 2011 was 'Read All About It' by Emeli Sande.
Newry Times was founded in 2011 by three unemployed graduates; Paul Malone, Emma Taylor and Declan McAteer. Armed with just £20 from their Job Seekers Allowance the trio wanted to revolutionise how news was delivered and consumed in Newry & Mourne.

"Why wait a week to find out the latest local news in Newry through a print newspaper?" they pondered.

No, the trio believed that local news could (and should!) be delivered to readers hourly, as and when it happens. We strived to utilise all the emerging technologies: Social Media, Smartphones, Tablet Devices and mobile optimised websites.
And guess what? It worked! Six years later, Newry Times is now the most read newspaper in Newry & Mourne with 14,000 (and growing!) weekly readers.

We've also built up a pretty impressive following on Social Media too, with a combined total of over 17,000 Facebook subscribers and over 4000 Followers on Twitter. To put that into perspective, in the 2011 census Newry City had a population of 29,946 so we have about two thirds of the city who connect with Newry Times.

We have hundreds of repeat customers throughout Ireland. These include: Shopping Centres; Charities; Councils; Retailers; Solicitors; Financial Businesses; Training Organisations; Pubs & Clubs; and many more.

At Newry Times we're often asked, "Why should I choose you over __________?"
We like to think we're pretty unique in what we offer our customers. Gone are the days when you could contact your local print newspaper, place an advert and wait while the customers come to you.

This digital age requires utilising all available platforms and Newry Times does not just offer an advert. We offer: Social Media Promotion; Website Advertising, Editorial, In-article Advertising and much more.


Whether you're based in Dublin, Belfast, Newry or somewhere in between, we have got some incredible deals for you to showcase your business, events and much more.

Perhaps it's best to leave you with a line from Emeli Sande's hit song: "So put it in all of the papers, I'm not afraid, They can read all about it, Read all about it, oh."

Let all your customers read all about it by advertising with Newry Times Newspaper.
Email editor@newrytimes.com for our Rate Card.

Paul Malone and the Newry Times Team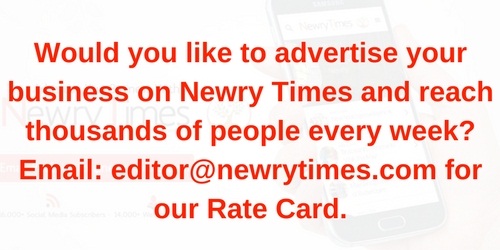 Both comments and pings are currently closed.