Daisy Hill Hospital pioneers baby heart screening test
Posted by
Newry Times News
info@newrytimes.com
Thursday, December 10th, 2015
Community
Daisy Hill Hospital is the first hospital in Northern Ireland to trial a new baby heart screening test.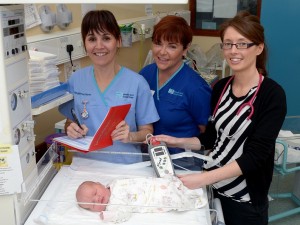 The paediatric team have worked closely with their maternity colleagues to introduce a routine oxygen saturation test for all new babies before they are discharged home. Dr Bassam Aljarad, Consultant Paediatrician, who introduced the new screening programme explained, "Congenital heart disease (CHD) is a general term for a range of birth defects that affect the normal workings of the heart. It is one of the most common types of birth defect, affecting up to 9 in every 1,000 babies born in the UK. "Nearly 50% of babies born with a CHD appear healthy at first without any noticeable symptoms and may be discharged, for their health to deteriorate months or sometimes a few years later. "A more timely detection will help us to identify more babies with cyanotic CHD at a much earlier stage, ensuring that we can keep them monitored and give them the treatment they need to prevent greater health consequences, disability or in the worse cases premature death. He added, "Only 32% with life threatening CHD can be diagnosed by clinical examination alone, whilst more than double this number can be diagnosed through this additional screening test." Irwyn McKibbin, Chairman of Heartbeat NI, which has funded the screening equipment says, "I am absolutely delighted that the Paediatric Team at Daisy Hill are showing the initiative to introduce this pilot study. "Already undertaken by many hospitals across England and mandatory in many states across the USA, we at Heartbeat NI have been advocating for this screening across Northern Ireland for a number of years. "This very simple and uninvasive test which takes just a matter of minutes can detect up to 76% of heart defects. This can have a crucial impact on the health and wellbeing of a child with a congenital heart condition, as well as relieving the stress of parents who in many cases can take as they believe to be a normal healthy child home from hospital, only to find at a later date a deterioration in their health and in the worst cases may require emergency surgery," he added. With around 1,850 births each year, the team at Daisy Hill would expect to detect about 1-2 cases of CHD on an annual basis. They plan to run the screening as a pilot for a year before making recommendations on whether it should be extended.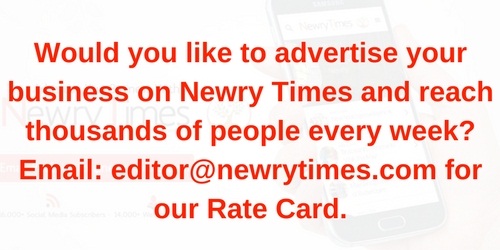 Both comments and pings are currently closed.