Reds off the mark as Liatroim lose ground
Posted by
Newry Times News
info@newrytimes.com
Thursday, May 14th, 2015
Community
,
Sport
DOWN ACFL DIVISION ONE – MATCHDAY FOUR
LIATROIM FONTENOYS
0-04 – 0-11
ROSTREVOR
By Kieran McNally Rostrevor produced a workmanlike performance to pull away from a disappointing Liatroim Fontenoys in swirling wind at Fontenoy Park on Sunday afternoon. The Reds needed to show patience against the breeze in the opening half and built on a single-point advantage at the interval to surge clear in the second half; restricting the Fontenoys to a last-minute point as the rain pelted down and the storm clouds gathered around the hosts' season. Stefan White's Rostrevor will now aim to build on their first success of the season to battle for the top ten. Liatroim's struggles appear to be entrenched in the extent to which they are without experienced campaigners, with the absence of Liam Doyle, Aidan O'Prey and Patrick Pearse McCartan; among others, ensuring that a youthful team take to the field and find it difficult to compete for the entirety of matches. Transitional perhaps; but it is that kind of squad development that unfortunately will be pushed to its limits in the testing season that lies ahead. Martin Doyle sent over the opening point for the hosts with an early free from the right with Rostrevor finding it difficult to shoot into an unpredictable breeze. Tomás Mulholland levelled the scores with a high effort, before Conor Doyle pointed from the dead ball to put the Reds in front on 11 minutes.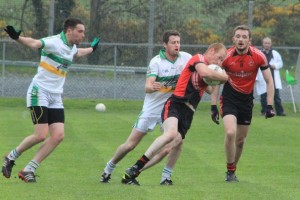 The conditions weren't particularly conducive to an entertaining spectacle, but the general proximity of the sides in the opening half ensured that it had its moments. William McCartan benefitted from PJ Davidson's turnover to equalise, before Conor Fegan's free restored the Rostrevor lead; 0-3 to 0-2. One would have felt that Liatroim's failure to build some sort of lead with the first half wind eventually manifested itself in a difficult second, but it wasn't for the want of trying and Jonathan Parr had to be alert in the Rostrevor net, as he parried Martin Doyle's snapshot wide in the 22nd minute. That same man did equalise four minutes later, but Rostrevor's Conor Doyle tucked over a close-range point before the interval to grant Rostrevor a one-point lead at the turnaround.
HALF TIME: 
LIATROIM FONTENOYS 0-03 – 0-04 ROSTREVOR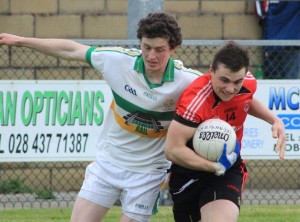 The importance of winning this match was certainly of the highest regard considering that the two sides were without wins in any of their three opening games, even allowing for some of the tougher games that are likely to arrive this season being played out in the previous weeks. However, the Fontenoys were running out of steam in the second half and Rostrevor steamrolled their way to a comfortable victory. It did take seven minutes for the Reds to open up a two-point lead for the first time with Sean Cooper finishing after good build-up from Caolan Mooney and Shaun Parr. Conor Doyle extended the lead on 40 minutes with patient Rostrevor play resulting in another point for Cooper, three minutes later. Conor Doyle scored an excellent curling point from the right side as Rostrevor began to move clear from Liatroim; opening up a five-point lead entering the final fifteen minutes. Jonathan Parr came upfield to send over from a 45-yard free with a further point from the dead ball arriving off Conor Doyle's cultured left boot.
On occasion, the Reds were maybe a touch selfish in the final third and their scent for goals prevented them from building an even greater advantage, as they overplayed the ball at times. However, Caolan Mooney scored a point on the run in the 54th minute to place Rostrevor into an eight-point lead; 0-11 to 0-3. Liatroim's long-suffering supporters were granted some respite in the final minute with Darren O'Higgins sending over a late free, but it was always going to be a red day in East Down. Before the game, it was certainly billed as an early season-definer and Rostrevor's win was as important, as any they will collect over the course of what is sure to be an arduous campaign. However, performances have warranted this win and continued work will ensure much more.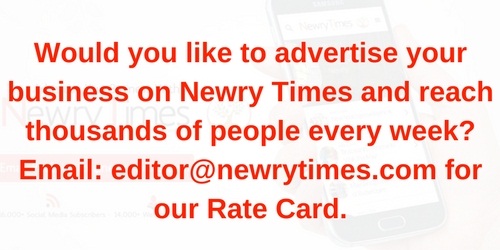 Both comments and pings are currently closed.