Housing for Lurganare?
Posted by
Newry Times News
info@newrytimes.com
Wednesday, April 1st, 2015
Community
,
What's On
Would you like to live in Lurganare? Do you think the Lurganare area needs more housing?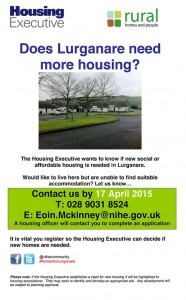 These are the questions the Housing Executive is asking local residents as it carries out a survey to help decide if there is a need for new social housing for rent in Lurganare.
The Housing Executive wants to hear from people who would like to live in Lurganare but can't find suitable accommodation. As part of the survey the Housing Executive is looking at interest in buying an affordable home through shared ownership – part buy/part rent.
The exercise runs until 17 April 2015 and anyone who needs a home is encouraged to register their interest by this date.
Rural Coordinator, Sinead Collins, explained, "In some rural areas the Housing Executives waiting lists do not reflect the actual demand for housing.
"People do not register their interest in an area as they feel they will have little chance of being housed there. Therefore in these areas there is a hidden demand for housing.
"The latent demand test provides the opportunity to anyone with genuine housing need in and around the Lurganare area, to come forward and register their interest with us."
If the Housing Executive assesses that there is a need, it will be highlighted to housing associations to look for an appropriate site to develop.
If you or somebody you know is interested in living in Lurganare, you can call the Housing Executive on 028 9031 8524 or e-mail Eoin.Mckinney@nihe.gov.uk quoting "LD Lurganare".
You may receive a visit from the Housing Executive's housing officer to complete an application.
If you're into social media why not contact the Housing Executive on twitter @nihecommunity using #homesforLurganare or check out their posts on Facebook.
The Housing Executive is grateful for the support of local community representatives who are helping with this exercise. Leaflets have been distributed across the local community.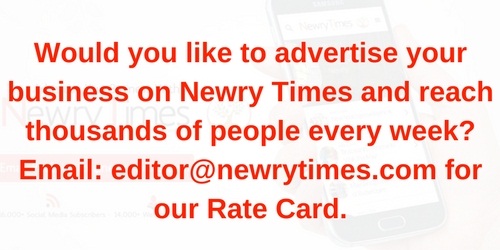 Both comments and pings are currently closed.