Know your limits if 'drowning the shamrock' this St Patrick's Day
The Public Health Agency (PHA) is urging people to keep an eye on their alcohol intake ahead of St Patrick's Day, emphasising the dangers of binge drinking and the effects that excess alcohol can have on your health and your safety.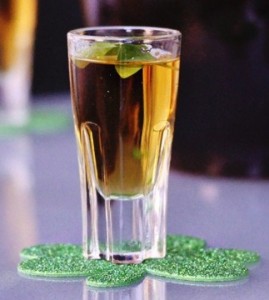 Victoria Creasy, Health and Social Wellbeing Improvement Senior Officer at the PHA, said, "A lot of people will be making plans to meet up with their friends and family to celebrate St Patrick's Day and we are urging them to keep an eye on their alcohol intake should they choose to drink."
The PHA is also emphasising the need to look after yourself, and your friends and family, should you choose to drink alcohol over the holiday.
It is recommended that men drink no more than three to four units of alcohol a day and no more than 21 units over a week. For women, it is recommended that they drink no more than two to three units of alcohol a day and no more than 14 units over the course of the week.
"Units of alcohol need to be spread out over the week – you can't 'save up' your units for a particular day or a party," said Victoria.
"Binge drinking can have a major impact on health such as causing damage to the liver, heart, brain and stomach. Overindulging in alcohol can also spoil the holiday for you, your family and friends."
If you do decide to drink alcohol over the over the St Patrick's Day holiday, try to follow these simple tips:
• Always look after yourself and know what your limits are. You are the best judge as to how much is enough;
• Have something to eat before you start drinking to slow down the absorption of alcohol;
• Alternate each alcoholic drink with a non-alcoholic drink; for example water or a soft drink;
• Take frequent five minute breaks from drinking to give your body time to recover;
• Avoid drinking in rounds or having a kitty as this may result in you drinking more;
• Keep track of your drinks and don't let anyone top up your drink until it's finished;
• If a friend does drink too much, don't leave them alone or let them wander off, rather, encourage them to re-hydrate with non-alcoholic drinks.
For further information about alcohol limits visit www.knowyourlimits.info
Short URL: https://newrytimes.com/?p=49836
Posted by
Newry Times News
on Mar 17 2015. Filed under
Community
. You can follow any responses to this entry through the
RSS 2.0
. You can leave a response or trackback to this entry