Ulster Title for St Joseph's Boys' High School, Newry
Posted by
Newry Times News
info@newrytimes.com
Monday, December 22nd, 2014
Community
,
News
,
Sport
Thursday 18th December will be long remembered by all those associated with St. Joseph's High School, Newry as they secured their first ever Ulster Colleges trophy by winning the under-16 Faul Cup.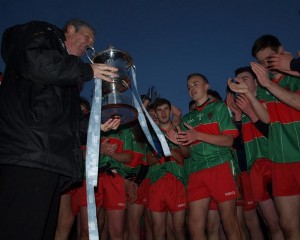 They defeated the Belfast side Colaiste Feirste, who narrowly secured a victory against St Joseph's in last year's final. This year, it was a hard win that took a massive whole-squad effort to come out on top following extra time. With both teams nervous in the early exchange it was St. Joseph's who settled the quickest but struggled to turn the early domination into scores. In a low scoring half St. Joseph's lead 0-3 to 0-1.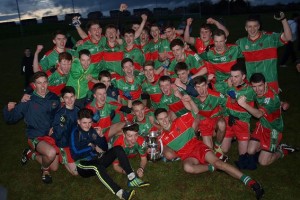 St. Joseph's were dealt a hammer blow on the restart when a speculative Colaiste Feirste high ball found its way into the net. Those who feared that this would signal a change in momentum need not have worried because if anything the setback seemed to spur on the St. Joseph's lads who raised their game and rallied, showing some excellent defensive work and build up play which lead to a series of majestic scores being registered by the hard working and industrious forwards. Colaiste Feirste registered another goal but again St Joseph's regrouped, resulting in Ryan McAleavy dispatching the ball into the back of the net to raise the green flag.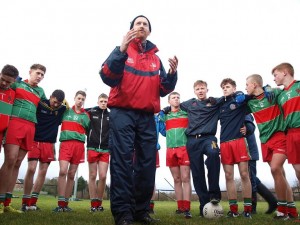 With the finish line in sight, Colaiste Feirste were not going to relinquish their title easily and dug in deep to battle back. Their resilience was rewarded with fortuitous penalty goal in the dying moments of regulation time. With the penalty dispatched St. Joseph's mounted one last attack but could not muster the required point and so it ended 1-8 to 3-2. So to extra time, and again St. Joseph's were the dominant side overall with their superior fitness and desire for a historic first title helped them to push on and register a final score victory of 1-13 to 3-4. The unbridled spirit, tenacity and team effort that shone through from each and every player is testament to the 'never-give-up' attitude of St Joseph's High school.
This phenomenal team success will undoubtedly reverberate for a long time and the pride of staff, pupils, families and the extended school community will live long in the hearts of all associated with St Joseph's. For more images: www.stjosephsnewry.com
Team:
Aaron Osbourne, Cathal O'Reilly, Patrick O'Reilly, Caomhan Boyle, Niall Magill (0-1), Padie Magee (0-1), Micháel Dillon (0-1), Caolan Marron (0-1f), Conor Magee, Turlough Marks (0-4-1f), Cathail Byrne (0-1), Eoin Flynn (0-1), Sean Sands, Ryan McAleavey (1-3)
Subs used:
Ryan Gorman for Cathail Byrne, Stephen O'Connor for Conor Magee (both in normal time). Keelan O'Reilly for Ryan McAleavy, Cathail Byrne for Eoin Flynn, Joe Mc Conville for Sean Sands (extra time)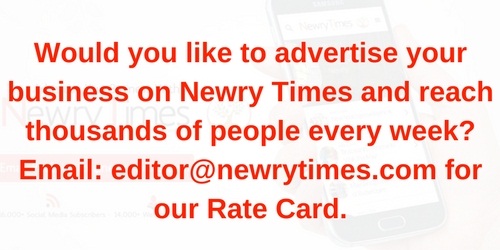 Both comments and pings are currently closed.