Local men are 'the most stressed' in the UK
Men living in Northern Ireland are the most stressed in the UK, according to a national survey from global hygiene brand TENA Men.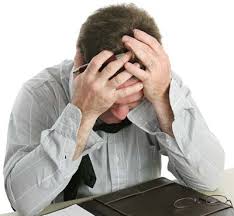 The survey has asked men aged 18 and over to share their health concerns, with one in five men from the region admitting that concerns about their physical wellbeing are their biggest worry.
Despite this being the main cause of stress, one in ten men confessed to waiting over a year before visiting the GP with a health issue.
This reluctance to visit the doctor could be due to the fact that 32 per cent of local men do not find their GP very helpful when seeking medical advice.
Instead of visiting the GP to combat health worries, men from Northern Ireland are the most likely group in the UK to turn to alternative therapies. When feeling under the weather, many have resorted to homeopathy (15 per cent), acupuncture (23 per cent) and herbalism (23 per cent) to improve their wellbeing.
The recent survey also found that over half (54 per cent) of Irish men questioned have panicked after reading health information online and as a result, they are now the least likely to self-diagnose in the UK.
Donna Wilson, brand manager for TENA Men, commented, "These survey results show a concerning number of men are feeling stressed due to health worries but choosing to avoid seeking professional advice.
"TENA Men strongly believes in encouraging men to visit the GP and openly discuss their health. In doing so, we hope to break down the stereotypes associated with taboo medical concerns that are simply part of everyday life."
Donna added, "Bladder weakness is more common than most people think, so men shouldn't feel embarrassed about opening up to their GP. In fact, one in nine men experience bladder weakness at some point in their lives, so you're not alone."
One in five men have experienced an involuntary dribble of urine after visiting the toilet whilst one in three men have noticed their need to urinate has increased as they have got older. Whilst 65 per cent of men say they are aware that these are signs of bladder weakness, a shocking 35 per cent are not aware.
Dr Hilary Jones, Brand Ambassador for TENA Men, commented, "No matter how small or insignificant your health concern is, my advice would always be to schedule-in a doctor's appointment – just to be sure.
"Creating a positive relationship with your GP is paramount to building trust, while it will also help you alleviate any worries you might have."
More bladder weakness statistics:
• 35 per cent of men are not aware of the signs of bladder weakness

• 42 per cent of men regard bladder weakness as an inevitable result of getting older

• 35 per cent of men have visited the toilet more as they have got older

• 73 per cent of men have woken at night to use the toilet
Short URL: https://newrytimes.com/?p=45543
Posted by
Newry Times News
on Oct 16 2014. Filed under
Community
. You can follow any responses to this entry through the
RSS 2.0
. You can leave a response or trackback to this entry