Éamon Donnelly Collection launched at Newry Museum
Posted by
Newry Times News
info@newrytimes.com
Friday, April 11th, 2014
Community
,
Politics
,
What's On
Councillor Michael Ruane, Mayor of Newry and Mourne District Council, officially launched the publication "A Catalogue of the Éamon Donnelly Collection" at a reception held at Newry and Mourne Museum, Saturday 5th April 2014.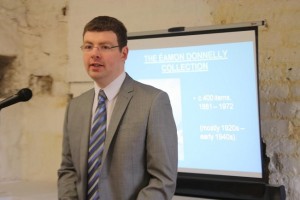 The Collection, which contains 400 documents from the personal and political papers of Éamon Donnelly, a prominent Nationalist politician in Ireland during the 1920s and 1930s, and one of the founding members of Fianna Fáil. The documents include correspondence, speeches, lectures, photographs and contemporary newspaper cuttings, was generously donated to Newry and Mourne Museum by Donnelly's grandson, Donal Donnelly-Wood. Additional documents were also donated by Sean Donnelly, another grandson. To help people access these records, Newry and Mourne Museum has produced a comprehensive catalogue of the material which members of the public can use before arranging an appointment to see the Collection. Speaking at the event, Councilor Michael Ruane said, "The Museum is delighted to have received this important Collection, and we would like to pay tribute to Donal Donnelly-Wood and Sean Donnelly for their generosity in donating this material which is of national importance." Also speaking at the event was Dr Éamon Phoenix, political historian and author of Northern Nationalism 1890-1940. He commented, "This archive provides new insight on the career of a leading figure on the Republican wing of Northern nationalist politics after 1916." Donnelly was born in Middletown, County Armagh, in 1877, and his political career began as one of the first members of the Irish Volunteers in Armagh. A passionate believer in Irish independence, he broke with the Home Rule party after 1916 and was associated with Éamon de Valera and Michael Collins. He was elected Absentionist MP for Armagh in 1925 and became one of the founding members of Fianna Fáil in 1926. He and served as Fianna Fáil TD for Laois-Offaly from 1933 until 1937. Donnelly's family lived in Newry for much of his political career. When he died on 29th December 1944, he was buried in St. Mary's Cemetery in Newry. Noreen Cunningham, Museum Curator, informed the guests at the launch that the public can visit the Museum and see some items from this Collection on display, including photographs of Donnelly's funeral cortege along Hill Street and Chapel Street in 1944. If you wish to visit the Museum to access the Éamon Donnelly Collection please telephone 028 3031 3177 to arrange an appointment. Newry and Mourne Museum is open to the public seven days a week with admission free of charge. For opening hours, information on events and exhibitions, other services and bookings please phone 028 3031 3178 or visit www.bagenalscastle.com.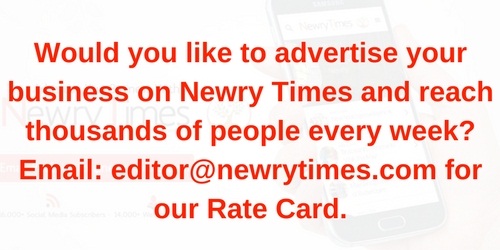 Both comments and pings are currently closed.