Newry: A look back in time – Local link to youngest ever Mayor of New York City
In our new column Newry Times columnist Sean O'Siridean takes a look back through the Newry of old. He takes a step back in time and looks at how history reported on Newry and the surrounding areas through past decades. Today Sean looks at the local link to the youngest ever Mayor of New York City, Mayor Grant.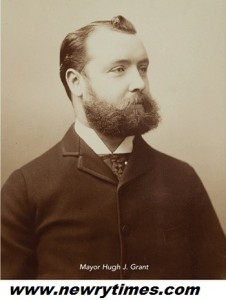 I was surprised to discover that the youngest ever mayor of New York city could trace his lineage directly to Mayobridge and was a frequent visitor to Newry to visit his aunt, a Mrs Dempsey, who resided on Sugar Island.
We have obtained a short excerpt from the Irish News dated 26th February 1892 which documents his last visit to Ireland, where he took in a trip to Bessbrook Linen Mill and Lisummon for the Newry Harriers hunt.
Early life & Politics:
Born to Irish immigrants who left Mayobridge for New York in 1856 Mayor Grant unfortunately became orphaned at an early age but overcame those early obstacles to become a successful real estate entrepreneur. He was educated at Manhattan College then spent a year in Berlin.
Back in New York, he studied at St. Francis Xavier College, then Columbia Law School, after which he went into private practice. In 1882 he entered public service and was elected to two terms as Alderman, then one term as Sheriff of New York County. With the backing of Tammany Hall, he was elected Mayor of New York at the age of 31, the youngest in the city's history.
Notable work:
He served 2 two-year terms as Mayor from 1889-1892, during which the city undertook a number of great public works projects, including the transfer of the city's electrical cables underground. Grant would be the first mayor to appoint a "rapid Transit commission" in 1890 to develop a subway system.
Corruption and Tammany Hall:
Although carrying out some very good work with the underground electrical cable initiative that reduced 'blackouts' in New York he was also involved in some questionable decisions and was embroiled with the 'Tammany Hall' political movement.
Tammany was the name given to a powerful political machine that essentially ran New York City throughout much of the 19th century. It began modestly as a patriotic and social club established in New York in the years following the American Revolution, when such organizations were commonplace in American cities.
In the early 1800s, Tammany often sparred with New York's governor DeWitt Clinton and there were cases of early political corruption that came to light. For all the corruption involved with Tammany it was becoming a powerhouse of Irish politics in New York City.
And in the time before social welfare programs, Tammany politicians generally provided the only help the poor could get.
There are many stories about neighborhood leaders from the Tammany organization making sure that poor families were given coal or food during harsh winters. The New York poor, many of whom were new arrivals to America, became intensely loyal to Tammany.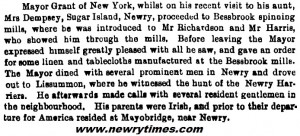 "Drunken and lecherous subordinates."
On February 14th, 1892, crusading reformist Reverend Charles Parkhurst of the Madison Square Presbyterian Church, denounced Grant's administration saying, "Every effort that is made to improve character in this city, every effort to make men respectable, honest, temperate, and sexually clean is a direct blow between the eyes of the Mayor and his whole gang of drunken and lecherous subordinates."
He went on to call Grant and his political colleagues, "A lying, perjured, rum-soaked, and libidinous lot of polluted harpies."
Marriage and Death:
On April 30th, 1895, Grant wed Julia M. Murphy, the daughter of U.S. Senator Edward Murphy. Cardinal James Gibbons of Baltimore granted special dispensation for the celebration to be held at the Murphy home at at the corner of K and 17th Streets in Washington, D.C., rather than in a church.
Archbishop Michael Corrigan of New York officiated, assisted by several priests. Murphy was a political ally of and financial adviser to Richard Croker. After traveling for several years in Europe, Grant lived and raised three children in their 20-room townhouse at 20 East 72nd Street in New York City.
In 1914, Julia Grant provided a financial bequest, originally anonymous, that provided the funds for establishing Regis High School, a Jesuit high school in New York City that, following her instructions, provided a free education for Catholic boys with special consideration given to those who can not afford a Catholic education.
Mayor Grant died of a sudden heart attack or stroke at home on November 3rd, 1910. After a funeral at the church of St. Ignatius Loyola on Park Avenue and 84th Street, he was buried in Calvary Cemetery.
More Newry history articles:
Newry: A look back in time – Newry Theatre bomb
Newry: A look back in time – Newry's 'Ghost Town' makes international news
Newry: A look back in time – Bessbrook Canon Golden Jubilee
Short URL: https://newrytimes.com/?p=40025
Posted by
Newry Times News
on Mar 13 2014. Filed under
Community
,
Old Newry
. You can follow any responses to this entry through the
RSS 2.0
. You can leave a response or trackback to this entry