'British Government must take responsibility for secret deals' – Ritchie
SDLP MP for South Down Margaret Ritchie has challenged the Prime Minister to take responsibility for the British government's role in the fiasco surrounding the secret deals that have emerged following this week's court judgement on John Downey.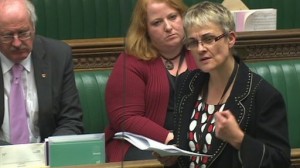 Speaking during yesterday's Prime Minister's Questions Ritchie stated, "Given the court revelations of a secret scheme, does the Prime Minister believe that, as well as the parties in Northern Ireland progressing the elements on dealing with the past from the Haass talks, there is a need for transparency from the two Governments regarding the confused and shabby ways in which they sought to deal with the past since the agreement, remembering that Downing street was involved in this matter?"
The Prime Minister replied: "I agree with the hon. Lady that the Haass talks made some good progress. They were trying to deal with some of the most difficult issues in Northern Ireland, in terms of flags and parades, and perhaps the most difficult issue of all, the past.
"It is going to take a lot of courage and bravery from people on all sides in order to make progress in this way. She wants to point the finger, apparently, particularly at Downing street.
"I would argue that, when it has come to dealing with things like the Bloody Sunday inquiry and the de Silva report, Downing street is very happy to play its role in helping to bring parties together to make sure that we continue with peace in Northern Ireland."
Following up on this point during the subsequent Urgent Question to the Attorney General Ritchie pressed, "Given yesterday's announcement in the court system, what assurances can be given to families—who are awaiting justice in relation to the deaths of their loved ones and what happened surrounding those deaths—that they will not face similar revelations about side and shoddy deals?"
The UK Attorney General replied, "I hope very much that no one will have to deal with side and shoddy deals. It is a matter of opinion as to whether the process of assurances to the on-the-runs was a proper one to pursue. It is a matter for political debate."
Following these responses from the UK Government Ms Ritchie has stated today, "The time has come for the UK Government to live up to their full responsibility to the past, not just for their owns actions during the Troubles but in their dealings subsequently.
"Apart from the wider issues relating to the letters, that one of these letters was sent in error must give serious questions about the oversight and reliability of this whole scheme.
Ritchie added, "These revelations demonstrate the need to have a comprehensive and transparent mechanism to deal with the past – no more quick fixes and side deals. If the public are to have any faith in this process the UK government need to start living up to their claimed commitment to reconciliation and justice for all victims."
Short URL: https://newrytimes.com/?p=39821
Posted by
Newry Times News
on Feb 28 2014. Filed under
Politics
. You can follow any responses to this entry through the
RSS 2.0
. You can leave a response or trackback to this entry