Valentine's Day: Don't go breaking your heart
Valentine's Day is once again upon us, like it or not, and the British Dietetic Association (BDA) is issuing some key advice to ensure you heart doesn't get broken this year.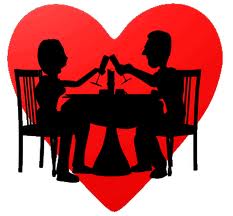 The BDA, founded in 1936, is the professional association for registered dietitians in Great Britain and Northern Ireland.
It is the nation's largest organisation of food and nutrition professionals with over 7,000 members. The BDA is also an active trade union.
"Eating healthily is one of the important ways that you can look after your heart," said BDA spokesperson and dietitian, Lucy Aphramor.
"A heart-healthy diet works in a number of ways. For example, it may help reduce cholesterol levels, prevent excessive blood clotting and lower blood pressure."
Here are a number of ways you can help reduce your risk of heart disease.
Fruit and Veg: Fruit and vegetables provide vitamins, minerals, fibre and other plant nutrients such as antioxidants that help protect your heart. Fresh, frozen, tinned and dried varieties all count. Aim to include five or more portions each day.
A portion is: Two to three tablespoons of vegetables; Two small fruits such as plums or one larger fruit like an apple; A small glass of 100% fruit juice; Smoothies (made from 100% juice and whole fruit).
Supplements don't have the same benefits as eating fruit or vegetables. Pulses (beans, peas and lentils) release their energy slowly which is thought to be good for heart health. Soya and oats may also have additional benefits.
Feat on Fish: Omega-3 is a type of polyunsaturated fat that appears to have benefits for the primary prevention of cardiovascular (CV) disease. It comes in two forms, one of which is found in oily fish.
If you have had a heart attack, aim to eat between two and four portions of oily fish a week. Everyone else should aim to have one portion of oily fish a week.
Examples of oily fish are: salmon, herring, sardines, mackerel, pilchards, trout, kippers, (all fresh, frozen or tinned) and tuna (fresh or frozen tuna only). If you do not eat fish, you can get omega-3 from vegetable sources and from foods fortified with omega-3.
Understanding Fat: "here are several different types of fats in the diet and these have different effects on the heart. Trans fats found in processed foods are associated with increased risk of heart disease.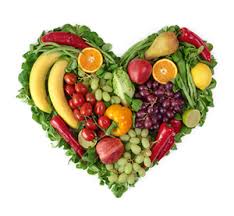 Fortunately, in the UK, food manufacturers have been reducing the use of partially hydrogenated fats that are responsible for trans fats. Cutting down on processed and takeaway foods will help you eat less trans fat.
"Saturated fat is found in animal products including butter, ghee, lard, suet, dripping, cheese, cream, full fat milk, and fat on meat and poultry. It is also found in processed foods such as burgers, sausages, pastry, pies, cakes, biscuits and rich puddings.
Having a lot of saturated fat is linked with raised levels of harmful (LDL) cholesterol. Cutting down on processed foods and eating more fruit, vegetables and starchy foods will reduce your saturated fat intake.
Replacing saturated fat with moderate amounts of monounsaturated fat and polyunsaturated fat can reduce harmful cholesterol. Monounsaturated fat is found in olive oil and rapeseed (canola) oil, avocado and some nuts. Polyunsaturated fat is found in sunflower oil, corn oil, soya oil, rapeseed oil, spreads made from these oils, nuts and seeds.
Portfolio diet: You may have heard of the Portfolio diet for heart health. This involves eating a group or 'portfolio' of foods which together lower cholesterol. It contains plenty of fruit, vegetables and wholegrains, fish, moderate amounts of dairy foods and poultry, smaller amounts of red meat and cuts down on processed foods.
However, the Portfolio diet pays particular attention to consuming lots of beans, pulses, oats and barley (for soluble fibre), almonds, soya and plant stanols.
Tips: If you decide to make changes, begin slowly with one or two suggestions. Remember, it is best to focus on improving your eating and exercise patterns as the main goal rather than aiming for weight loss.
Dieting can lead to weight going up and down or 'yo-yoing' which is bad for your heart. By eating well and being active you may or may not lose weight – but you will improve your heart health even if your weight stays the same.
Aim for five or more portions of fruit and vegetables a day.
Limit sugar intake, including foods and products already containing sugar and added sugar.
Regularly eat oily fish or vegetarian sources of omega-3.
Limit your intake of processed foods, pastries, fried and fast food – instead choose healthy sandwiches or rolls, a baked potato or home cooked food.
Cut down on fatty meat products such as sausages, pies and streaky bacon – swap them for unprocessed meat or fish.
Choose a spread made from plant oils such as olive or sunflower oil and limit high fat dairy foods such as butter and cream, and full fat milk, cheese and yoghurts.
Use more wholegrains – high fibre bread, breakfast cereals, oats, brown rice and pasta, plus beans, peas and lentils.
Snack on fruit, fruit loaf, sandwiches, dried fruit, nuts, seeds, low fat yogurt, high fibre cereals and plain biscuits.
Keep salt intake low.
Stick to the recommended alcohol limits (to not regularly drink more than 2-3 units/day for women, 3-4 units/day men).
Aim to be physically active for at least 30 minutes every day.
Avoid smoking and smoky environments.
Add beans and extra vegetables to stews, stir-fry, curry, shepherd's pie, bolognese and chilli.
Increase your intake of beans and pulses.
Short URL: https://newrytimes.com/?p=39324
Posted by
Newry Times News
on Feb 11 2014. Filed under
Community
,
Features
. You can follow any responses to this entry through the
RSS 2.0
. You can leave a response or trackback to this entry