Local political representatives pledge support to Newry On Ice employees
Local political representatives in Newry have pledged their support to over 30 employees battling to get paid several weeks of wages owed to them.
Newry Times revealed on Sunday evening that around 35 members of staff working at Newry On Ice – A Winter Wonderland have not been paid despite working in freezing conditions over the Christmas period.
Newry Times understands that a meeting will take place at 7:00pm tonight with local councillors who, according to former employees, met with one of the organisers this afternoon to discuss wages.
Commenting on the failure of those behind Newry on Ice to pay wages to their workers, Shane Jones of the socialist republican party, éirígí, said that there are clear questions to which need to be answered concerning the whole affair.
Speaking to Newry Times after he had attended a protest by workers outside Newry and Mourne Council offices on Monday evening, Jones said, "It goes without saying that every effort should be made to ensure that the workers receive the monies that they are entitled to.
"Many of them are students who were just trying to earn some money to help with their college and university expenses. All of the workers have been treated in an extremely disgraceful manner by what clearly is a very unscrupulous company.
Jones continued, "I welcome and commend the speedy and prompt action by Newry Trades Council in assisting these workers and in publicly highlighting their predicament.
"However, it should not be forgotten that this project, by what has been proven to literally be 'a fly-by-night' company, was publicly welcomed and endorsed by members of Newry and Mourne Council. Newry and Mourne Council in particular have questions to answer about this whole appalling episode", he insisted.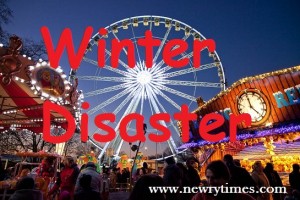 "Is it normal practice for Council to agree to lease land, even on a short-term basis, to private companies at no cost? Was any form of due diligence conducted on the company and its background before agreeing to permit it to use council-owned land, for example?
"The decision to grant permission to this company was taken at the beginning of last October which left ample time for the Council to carry all the necessary checks long before the planned start date in December. Had proper checks been conducted, it is inconceivable that permission would have been granted to the company.
Jones added, "However, it would appear that council officials were more interested in the securing of PR than in ensuring the protection of the rights of workers."
Sinn Féin Councillor Charlie Casey described the predicament the employees find themselves in as a 'terrible situation'. "I appeal to the event managers to honour their commitment to their staff immediately.
"I know that Newry & Mourne Council officials are seeking an urgent meeting with the Newry on Ice representatives and I hope that this can take place today or in the days ahead. The event staff gave up much of their Christmas break to work at the venue. It is completely disgraceful that they have not received the money which they have earned.
"I will be monitoring the unfolding developments and will do everything I can to resolve the situation," Casey added.
Newry and Armagh MLA Dominic Bradley pledged to do all he can to help the employees. "This is a disgraceful situation. I understand some of the 30-plus young people have not received the pay due to them. There is a clear moral responsibility on the company to fulfil its obligations to all of its employees.
"My colleagues and I have made representations through the Newry and Mourne District Council to hold the company to account and help ensure the young people get what is rightfully due to them – the wages owed to them," he added.
More on this story:
Winter Disaster: 35 employees unpaid as organisers 'switch off their phones'
Winter is coming: Newry set for Winter Wonderland extravaganza
Short URL: https://newrytimes.com/?p=38177
Posted by
Newry Times News
on Jan 7 2014. Filed under
Community
,
Politics
. You can follow any responses to this entry through the
RSS 2.0
. You can leave a response or trackback to this entry