Winter Disaster: 35 employees unpaid as organisers 'switch off their phones'

There is widespread anger in the local community tonight after it emerged that around 35 members of staff working at Newry On Ice – A Winter Wonderland have not been paid several weeks worth of wages.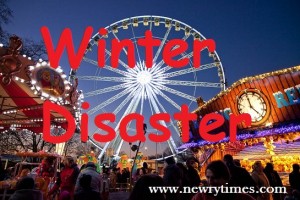 Furious former employees took to Facebook and Twitter on Sunday evening after desperately trying to contact the Winter Wonderland organisers for more than 24 hours about their wages.
Those frantic calls, according to several former employees who spoke to Newry Times, were not answered.
The Winter Wonderland, billed as a 'Winter Extravaganza', has been shambolic from the start. The month long initiative, which was a privately funded project, took place from 7th December 2013 until 5th January 2014.
Situated in Newry's Albert Basin, organisers boasted of attracting 100,000 people to Newry for the privately funded project but alarm bells started ringing at its opening weekend after it embarssingly remained closed because of 'severe weather conditions'.
And to compound matters further, the organisers neglected to tell the general public it would not be open, with many travelling from near and far met with closed gates during the first 48 hours.
Organisers also promised that the venture would create a welcome boost to the local economy and provide some much needed local employment, which now appears to be fantastical.
However, the long running fiasco turned into a Winter nightmare, with closed gates and no explanations being a feature of the month-long horrow show.
Throughout the four weeks, many local people wrote comments on the Newry Winter Wonderland Facebook Page deriding the organisers for a multitute of problems they encountered.
These problems included purchasing Groupon tickets for ice skating and turning up to find the event closed down as well as major doubts over the pricing structure for tickets.
Local people were also angry that much of what was publicised prior to the event, namely a drive in movie and a 'big wheel' failed to materialise.
One employee spoke to Newry Times tonight about the farcical situation, which has left him out of pocket to the tune of a staggering £750. The man, who wished to remain anonymous, should have earned £7 per hour.
He stated, "We knew that it would be finished up by Sunday and we were all expecting to get paid there and then but the girl who deals with all that stuff said she quit the job on Friday after waiting 2 and 1/2 hours before going home to Dublin."
The employee revealed that he and his anxious colleagues held a staff meeting in the lobby of the Canal Court and the meeting included some parents and approximately 13 members of staff as well as a lady from the trade union.
He explained, "We worked out within the 13 that were there there was aprox £4000 in wages that needed paid so you can imagine the full amount. Personally I'm owed £750.00 and honestly I don't think we will get paid but hopefully if the council and local press along with councillors and members of the public apply the pressure we might."
The former employee said he feels 'sick' at the prospect of not getting paid after working over 100 hours during the festive period in shocking weather. "I personally feel sick and used; I've worked over 100 hours and I am still unable to buy my family's Christmas presents. But we cant do anything now."
The young man said he had his reseverations about the Winter Wonderland from the start. "I personally feel that it was a sham and a disaster from day one as it didnt open on time. The place was always upside down with very little help from the main people in charge."
What angers the former employee most is the lack of courtesy from the management at Winter Wonderland. He continued, "They dont have the respect to come and tell us the problems face to face. I'd like to add that we appreciate the help so far from all involved within the community and hopefully this will be resolved sooner rather than later."
Another employee, a lady who is owed £485.80, said she was paid for her first week but is still owed three week's wages. The lady, who also wishes to remain anonymous, said she started work on 9th December and worked right up until 5th of January.
She said that neither she nor her colleagues have seen the two main organisers since the first week and employees have been unable to get in touch with the duo since last Tuesday.
She added, "The current situation at the moment is that we do not know when we are getting paid and this is why we are trying to elect members of employees to contact as many parties as possible in order to raise awareness of this issue as well as demanding some answers to tie up loose ends."
And another employee left in the dark over wages, Aoife, told Newry Times that the ice rink closed on 5th January because of 'a lack of customers', 'very annoyed staff" and 'bad weather conditions'.
"My boss Victoria didn't tell any staff member that she was no longer working for Newry On Ice until 3 days after and she also gave us no explanation of why she left," Aoife insisted.
"I am owed a fair bit of money that I worked incredibly hard for as everyone else did. At this point I honestly don't know if we will get paid, I'm still hoping I do because I was going to use that money to visit my uncle, aunt and cousins in Hong Kong."
She said the mood among her colleagues is low. "Every one of us feels annoyed, some staff members have been paid but most haven't.
"At the end of the day most of us are students and even the workers that aren't just wanted to make some money over Christmas to buy friends and family presents and have some money to keep them afloat or save up."
Aoife insists she and her colleagues need answers immediately. She added, "I just want the man in charge to get in contact with all the employees and answer all of our questions and pay us."
Reacting to the revelations, local SDLP Councillor Connaire McGreevy said he was made aware of the claims of unpaid wages on Sunday evening.
"I have made urgent representations to the Chief Executive of Newry Council and Director of Administration hoping that he has the contact details of the organisers and due diligence was conducted prior to them taking over council property.
"This is unacceptable and I will do my best to ensure they are tracked down and the people rightly get their money that is owed. I am hoping at this stage that this is perhaps an oversight/misunderstanding and they will pay what is owed asap," he added.
McGreevey's SDLP colleague, Newry Armagh MLA Dominic Bradley stated, "This is a disgraceful situation which has left over thirty young people without their wages immediately after Christmas. The company involved has a moral obligation to pay their workers what they are owed.
He added, "I will be working with local trade unions and colleagues to help ensure that people get what is due to them."
UKIP Newry and Armagh representative Wayne Hawthorne told Newry Times he was unable to get in touch with organisers. "I have tried several times to contact both northern and southern mobile numbers supplied to me for this company and am not able to get a response.
"I find it appalling that from start to finish that this venture has had many hiccups from turning customers away due to the ice not freezing now to hear that wages have not been paid for the best part of 3 weeks.
"I believe that one of the management has contacted staff informing them as with any job that payment would be made 1 week after the venture closed but also informed them that they had no longer anything to do with Newry on Ice. This to me is a fob off."
The UKIP representative also revealed that the organisers of Newry Winter Wonderland have companies that are in liquidation in Dublin. He added, "We have to ask if all the relevant paperwork was supplied as I believe the Directors have companies in liquidation in Dublin."
More on this story:
Winter is coming: Newry set for Winter Wonderland extravaganza
Short URL: https://newrytimes.com/?p=38096
Posted by
Newry Times News
on Jan 6 2014. Filed under
Community
,
News
. You can follow any responses to this entry through the
RSS 2.0
. You can leave a response or trackback to this entry