Unionists 'in denial' about South Armagh collusion claims, insists Bradley
SDLP MLA for Newry and Armagh Dominic Bradley MLA has said that some Unionist politicians remain in denial about the degree and depth of collusion which existed between members of loyalists paramilitaries, the RUC, and the UDR.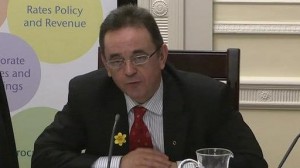 The book claims that members of the now disbanded police force the RUC and the Ulster Defence Regiment (UDR) were part of a killer loyalist gang believed to be responsible for the murder of 120 people in the 1970's.
The book, written by Pat Finucane Centre researcher Anne Cadwallader, claims to lift the lid on large scale collusion in County Armagh.
In one telling excerpt in the book, a quote from an unpublished Historical Enquiries Team (HET) report claimed that there was indisputable evidence of security forces collusion that "should have rung alarm bells all the way to the top of government".
According to the book, members of the security forces and the UDR were part of a murder gang operating from farms in South Armagh during the four year period between 1972 and 1976. "It can," the author claimed, "be demonstrated beyond a reasonable doubt that there was systemic collusion in these cases."
Glenanne, just several miles outside Newry, was where one of the farms was situated according to the tell-all book.
Commenting on the claims of collusion in the book, Bradley said, "It clearly shows that there was collusion between members of the RUC, UDR, and Loyalist paramilitaries. The book confirms the various indications of collusion there were in these cases down through the years and only confirms what the community in this area have known for years.
"The book and the official records it publishes acknowledges the fact that not all in the RUC or UDR were corrupt and colluding with murder gangs, but it very clearly points the finger that there were elements who were. It's now time Unionist Politicians accepted and acknowledged that fact.
"The question now arises as to the level at which this policy was sanctioned and by whom. It is shameful that the agencies charged with upholding the law stooped to the level of the paramilitaries and engaged in a vicious murder campaign with official backing.
"The activities of this group fed into the cycle of sectarian murder and lead to the deaths of many more innocent people. I welcome the fact that the police Ombudsman is to examine the cases outlined in this important book.
Bradley added, "Unionist and British politicians, like Sinn Féin leaders, must decide if they want to continue the cover-up of the past or allow victims and survivors to learn the truth of what happened to their loved ones.
"The Hass talks affords the opportunity to find a mechanism to address these issues once in a comprehensive manner."
More on this story:
South Armagh collusion gang responsible for 120 murders, claims controversial new book
Short URL: https://newrytimes.com/?p=36198
Posted by
Newry Times News
on Oct 28 2013. Filed under
Community
,
Politics
. You can follow any responses to this entry through the
RSS 2.0
. You can leave a response or trackback to this entry