Bumper October planned for Newry's Creamery and Cathedral Quarters
This October see's the inaugural 'Hello October' Month coming to Newry's Cathedral and Creamery Quarter to officially launch the City Centre's exclusive new 'Hello Newry' Brand.
'Hello October' will include a wide range of events, festivals and street entertainment for all ages throughout the month of October.
Flagship events include Newry's Oktoberfest 2013 in McClelland Park, Sticky Finger's Children's Festival at venues across the city, Positive Ageing Week and Newry's exciting Halloween Festival at the end of the month.
There will also be music, activities and street entertainment every Saturday in October on Hill Street and music on Monaghan Street to attract more shoppers and visitors into the city centre.
The second annual Newry Oktoberfest will take place in McClelland Park in Newry's Creamery Quarter and offers unique German beers and culinary delights from Thursday 3rd October to Sunday 6th Otctober.
Sticky Finger's Children's Festival will begin on the 4th of October and run throughout the month to the 31st October offering up all kinds of very exciting events in venues up and down the Cathedral and Creamery Quarters including the enchanting 'Haunted Market' at Newry Variety Market and premiering exclusive kids theatre from across Europe.
Newry Halloween Festival will kick off on the 31st of October with an open-air concert and fireworks extravaganza at Albert Basin with other events taking place across the Cathedral and Creamery Quarters.
Throughout the month of October, local talent will be showcased every Saturday from 12pm – 3pm in the Cathedral Quarter's events space in Marcus Square. Entertainment will include children's activities, street performances and local musical talent in the Cathedral and Creamery Quarters.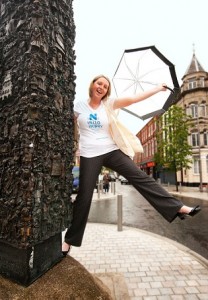 With such a strong business sentiment in Newry's City Centre there will also be an opportunity for local organisations from both areas to get together later in the month to discuss plans for 'Small Business Saturday' taking place on Saturday 7th December 2013 to share ideas, network and create further business relationships in what is one of Northern Ireland's most up and coming areas.
Jack Murphy, Chairman of Newry City Centre Management said, "With our unique new brand funded by the Department of Social Development and supported by Newry and Mourne District Council and Newry City Centre Management taking the City Centre by storm and creating a genuine buzz we wanted to bring a number of aspects together that summed up the 'Hello Newry' effect and showcase them in one bumper packed month."
Jack continued, "With Positive Ageing Week kicking off from the 7th to 13th October and Sticky Finger's Children's Festival running at the same time we've made sure to cater for all ages. From beginning to end of the month there are lots of reasons why you should come along to one of Northern Ireland's leading City Centre spaces."
Eddy Curtis, Director of Administration, Newry & Mourne District Council added, "We are delighted with the reaction to 'Hello Newry' to date. Just this week we have distributed information to more than 125,000 homes across counties Armagh and Down about exactly what Newry's Cathedral and Creamery Quarters have to offer.
"This type of project is all about supporting businesses and helping to drive the local economy so it is fantastic to see a mix of public and private sector events and initiatives taking place in the coming weeks to try to achieve the same objectives."
You can keep up to date with all the events, festivals and workshops taking place throughout the Creamery and Cathedral Quarters using the brand new 'Hello Newry' website at www.newry.com.
You can also follow @Hello_Newry on Twitter or like both Newry's Creamery Quarter and Cathedral Quarters on Facebook.
Short URL: https://newrytimes.com/?p=35121