'Sinn Féin colluded with British Government to block arrests', Bradley claims
SDLP Assembly Member for Newry and Armagh Dominic Bradley MLA has expressed his concerns at new allegations that suggest the Sinn Féin leadership pressed the British Government not to go after leading Provisional IRA members in South Armagh for fear of destabilising the IRA's ceasefire.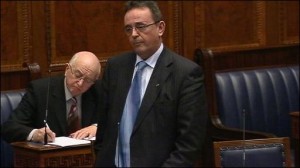 Speaking to Newry Times, Bradley said, "The revelations in the Belfast Telegraph by a former senior police officer alleged that Downing Street was warned by Sinn Féin that arresting suspects in south Armagh would destabilise the ceasefire. The same former police officer further alleged that Downing Street then made the decision not to release intelligence that could lead to arrests.
"It is 15 years since Omagh was devastated by a vicious Real IRA bomb. It traumatized not only those who were directly affected, but their families and loved ones. On the 15th anniversary of the bomb, this must be very distressing news for the families and all of those affected.
"The victims of the Omagh atrocity need and deserve the truth about what happened and information about the gathering and sharing of intelligence material is vital. These new revelations make the case made by the Omagh families for an inquiry even more compelling," the SDLP MLA insisted.
"These latest revelations show that both the Sinn Féin Leadership and indeed the British Government at the highest levels have very serious questions to answer. Just who was protecting who in this case? We were all used to seeing the hot house talks in Downing Street, but now we know what really went on between Sinn Féin and the British, they were protecting their own meanwhile lives were still being lost on our streets.
"If Sinn Féin told the British Government to back off on Omagh, did they tell them the same in relation to other murders; did they tell them to do the same for those who murdered Paul Quinn?
Bradley added, "These new allegations serve to strengthen the need for a realistic and practical inquiry in the Omagh bomb and its aftermath. It is important not only for the families but to ensure that a similar tragedy can never happen again."
Short URL: https://newrytimes.com/?p=33847
Posted by
Newry Times News
on Aug 20 2013. Filed under
Community
,
Politics
. You can follow any responses to this entry through the
RSS 2.0
. Both comments and pings are currently closed.