Jonesborough woman inspires cousin's close shave for 'Friends'
Posted by
Newry Times News
info@newrytimes.com
Tuesday, July 23rd, 2013
Community
,
News
Even before Jessie J had thought of shaving her locks for charity, Crossmaglen's own Geraldine Daly had begun planning her very own public head shave in the name of charity. Geraldine, a 31-year-old qualified occupational therapist, says, "I wanted to do something drastic that would make an impact and help raise funds for Friends of the Cancer Centre, the charity of the our regional centre of excellence in cancer care, based at the Belfast City Hospital. "All of the Cancer Centre's employees have been so good at looking after a number of my family who've undergone cancer treatment over recent years, including my cousin Joanne Aydemir, from Jonesborough, who sadly lost her battle in April this year at the age of 37. "I thought this would be a good way to do something practical to thank them. "It's a terrible thing for anyone to lose their hair whether through cancer or other illnesses, and is probably even more traumatic for a girl," Geraldine insisted. To make her point as publicly as possible Geraldine will be having her long red locks shaved at a fundraising evening she's organised around the activity for Saturday 27th July at Clarnagh Maid, Crossmaglen. There'll be a band, refreshments and she's even roped her brother, Hugh Daly, in to MC the evening. The event will start at 8pm. There's no cover charge but there will be a raffle and an auction (4 signed jerseys – Celtic, Donegal, Kilkenny, Armagh) on the night where all proceeds go to Friends of the Cancer Centre. Geraldine's even hoping to pull in some support from seven or so of her female cousins. In their own unique way some of them will be entering into the spirit of things by getting a pink ribbon tattoo the week before the event. Geraldine appealed for the public's support, saying; "I hope lots of people will come along to share in what I'm sure will be an enjoyable night to remember a very loving and courageous girl to whom I was very close to. "If anyone would like to donate a prize for the raffle, or even perhaps join me in shaving their head on the same night please do feel free to get in touch on 028 3086 1666. "I am grateful for any donations which can be made online via www.justgiving.com/Geraldine-Daly, by bank transfer (Acc No. 26419790, sort code 90-22-82), or cash donations through the sponsor sheets which are circulating the local area. "To ensure nothing goes to waste, I'm also going to donate my hair to The Little Princess Trust, a charity providing real hair wigs for children across Ireland, Scotland, England and Wales, who've sadly lost their own hair." About what inspired her, Geraldine says, "Having previously worked in the Cancer Centre in Belfast before I went to university, I witnessed on a daily basis the work that is carried out there. "I was grateful at that time that I had no one close to me that needed to go through what some of the patients I worked with went through with their treatments. But this was soon to change. Two members of my family have since had their treatments there, my dad and my cousin Joanne. "Joanne was the strongest, most inspirational person I ever knew. She fought hard against this terrible disease for 5 years, and I never heard her complain. "She lived life to the full and never let cancer stop her from doing what any 30 something year old woman would do, including getting married in July 2011 and organising many fantastic nights out with friends and family," Geraldine recalls fondly. "She always thought of others right up to the very end and protected me from the pain and suffering she was going through just so I didn't have to worry during exams. "I had told her that I wanted to shave my head to raise money for the Cancer Centre as it is where she had received some of her treatment and it is where my father received his. She laughed at me, told me I was mad but agreed to shave my head on the night. Sadly she lost her battle on the 27th of April, leaving us all devastated.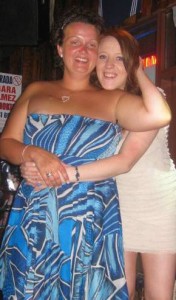 Geraldine continued, "Everyone is, or will be affected by the curse of cancer somehow, at some point in their lives and may have to attend the Cancer Centre in Belfast. The Cancer Centre relies so much on voluntary donations to stay open and continue to offer care to our loved ones. "My aim is to help raise the much needed funds to help people like Joanne and Daddy through their treatments." Welcoming Geraldine's 'hair-raising' fundraiser, Claire McAuley, Events and Community Fundraising Manager for Friends of the Cancer Centre, said, "We're very grateful to volunteers like Geraldine who go the extra mile to raise funds for our charity. "'Friends' makes a real and meaningful difference to the lives of thousands of cancer patients and their families across Northern Ireland by providing the latest medical equipment to help with the diagnosis and treatment of cancer and by funding specialist medical posts and research. "It also works to improve the quality of life for cancer patients and their families through diverse projects which range from complementary therapies and relaxation classes to refurbishing the on-site 'patient hotel' for those who regularly have to travel long distances for their treatment. Claire added, "Friends' funding is always directed towards projects and services which are outside and in addition to the provision already made by the Health Service, responding to needs highlighted by the Cancer Centre's expert medical staff."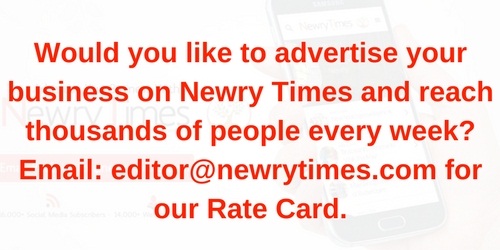 Both comments and pings are currently closed.