Newry Canal set for £10,000 funding
The Heritage Lottery Fund has awarded the Inland Waterways Association of Ireland (IWAI) Newry & Portadown branch almost £10,000 to create an interactive map of the Newry – Portadown canal and towpath for use on GPS enabled smart phones and tablets.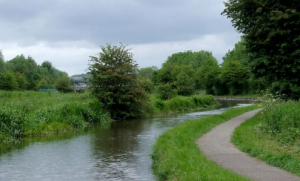 Not only will the map alert the visitor to exactly where they are but also to what was there 200 years ago and to what could be there if the canal were restored.
Branch secretary Geraldine Foley will co-ordinate the project. She spoke to Newry Times today and stated, "To use GPS technology to create a multi-layered, historical map is a new and innovative idea. This map will be a canal voyage through time.
"History has to be accessible to be relevant and as there is currently no operational canal in Northern Ireland it's difficult for the visitor to understand how it all worked in practice.
"Using video, text and dialogue we can provide a total canal experience which illustrates its place in the wider history of the industrial revolution in Ireland and the UK in an easily accessible way."
The digital map will be complemented by a Geo-cache trail. Geraldine explained, "Geo-caching brings the good old fashioned treasure hunt bang up to date. A GPS is used to locate the clues and you log your findings on a dedicated website.
"By putting clues at sites of significance we can make the geo-cache trail a powerful but fun educational tool for younger school children and for families looking for a less expensive but rewarding outdoor activity."
The IWAI campaigns to have the Newry canal reopened to leisure boat traffic and with this map the branch hopes to bring the canal's rich history to a new and younger audience who will be the ones to continue the push for restoration. The technical expertise behind the project will be provided by branch member Trevor Northage.
Trevor stated, "Young people habitually use internet technology and this project makes the canal's heritage more accessible to them. 20% of new website design is now aimed primarily at mobile users and the trend is growing.
"Combine that fact with the push to get young people outdoors and leading a healthier lifestyle and our map and geo-cache trail make a winning combination", he said.
The project will take 2 years to complete and, undertaken solely by volunteers, will involve surveying the towpath and river approaches using GPS and logging the location of all the interesting features. Trevor Northage will design and create the map using his wide experience of producing digital sea charts to a commercial standard.
While Trevor's day job as a ship's captain and training master takes him to South America for several months at a time it also allows him plenty of opportunity for building the map and supporting website.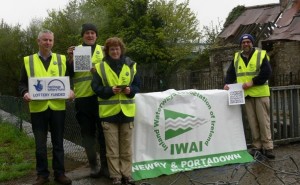 Trevor continued, "The Newry canal was an innovative concept in the 1740s and this map is just as innovative in 2013, using GPS technology to create an immersive history which the visitor will be able to access right there at the water's edge through their smart phone.
"Original drawings and maps are difficult to access. This project makes them available to everyone and the phone map is complemented by a website available for more in-depth study at home."
Historical research for the project is being undertaken by Geraldine Foley who will collect data from a wide variety of sources from PRONI to local museums. Individuals and communities can become involved by bringing relevant photos, documents and memories to be scanned and recorded for inclusion in the map and website, with a permanent exhibition on the project being maintained in the Scarva visitor centre.
Angela Lavin from HLF added, "We were delighted to fund this exciting and innovative mapping project to bring the industrial and cultural heritage of the Newry canal to a whole new audience.
"This project is another example of people working together to support, protect and share the heritage they care passionately about. HLF would encourage similar groups to follow the excellent example of IWAI Newry & Portadown Branch and use our funding to undertake their heritage projects."
Short URL: https://newrytimes.com/?p=31685
Posted by
Newry Times News
on May 17 2013. Filed under
Community
. You can follow any responses to this entry through the
RSS 2.0
. You can leave a response or trackback to this entry