Armagh Gaels compete in Newry Competition
A group of Irish speakers took to the football field at Páirc Esler in Newry last weekend to represent Armagh in a seven aside football competition for Gaeilgeoirí.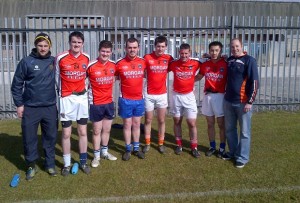 The players came from across the county to strengthen the link between the Irish language and the Gaelic Athletic Association. The competition was held as part of Conradh na Gaeilge's Annual General Meeting, which was held in Newry over Friday, Saturday and Sunday.
Armagh Gaels were represented by players from Annaghmore, Tullysaran, Dromintee, Newry, Silverbridge, Portadown and Lurgan. They played Na Gaeil Óga from Dublin, University of Ulster Coleraine and Laochra Loch Lao from Belfast.
Na Gaeil óga is the Irish language GAA club, which was set up in the capital a couple of years ago to allow GAA players to use Irish, their first language and the first language of our country, and they have been blossoming ever since.
The same weekend, over 60 Irish speakers represented the club on the two football teams, the hurling team and the ladies' football team in the club. Irish speakers from various clubs across Belfast play for Laochra Loch Lao and they take part in the annual Gaeltacht Football Competition alongside Na Gaeil Óga and teams from the Gaeltacht.
Irish speaking students from Counties Antrim, Tyrone and Armagh played for University of Ulster and the Armagh contingent played for both teams. As well as the male competition, an enjoyable and competitive game of ladies' football between Dublin's Na Gaeil Óga and Belfast's Laochra Loch Lao was also played.
Gaeil Ard Mhacha defeated Na Gaeil Óga and University of Ulster but were unable to challenge Laochra Loch Lao. Armagh was also represented in the ladies' football with Niamh Nic Ruairí from Lurgan lining out for the Belfast side.
In the end, Laochra Loch Lao proved too strong in the two codes and brought the trophies back to Béal Feirste, but the main winner on the day was undoubtedly the Irish language as not a word of English was spoken on the field.
Seán Ó Maoilsté, Irish language development officer with CAIRDE Teo in Armagh and member of Wolfe Tone and St Enda's GAC in Derrymacash, said that everyone who took part really enjoyed the occasion.
"This was a fantastic opportunity for the players to use their Irish and I can only praise the organisers of the Ard Fheis for including the competition. There are a lot of Irish speakers playing football, hurling and camogie, but it is not very often that they get to use the language, particularly on the playing field.
"The GAA should be a lot more proactive in providing opportunities such as this for Irish speakers.
"There is plenty of good work being carried out by individuals within the GAA, by county boards and by Croke Park's Irish Language Committee, but it is high time that GAA authorities started to fully recognise the principles stated in the GAA constitution in relation to the preservation of our language."
Seán is a member of the Armagh GAA Irish language committee and he stated that the Armagh County Board places great importance on the Irish language. "Armagh GAA is doing a lot of work to promote our national language with articles in programmes, bilingual player profiles, signs and advertising, Irish used in Scór, money collections, awarding scholarships, Irish classes and workshops for club representatives.
"Many of the inter-county players have some degree of Irish, whether that be a cúpla focal or a fluent speaker, but they are extremely supportive of the language and are happy to do their bit to promote the Irish language in Armagh."
Chuaigh grúpa Gaeilgeoirí amach chun páirce ag Páirc Esler ag an deireadh seachtaine le hionadaíocht a dhéanamh ar son Ard Mhacha mar chuid de Chomórtas Peile na nGael ar an Iúr. Tháinig na peileadóirí as achan chearn den chontae leis an cheangal idir an Ghaeilge agus an Cumann Lúthchleas Gael a cheiliúradh. Bhí an comórtas á reáchtáil mar chuid d'Ard-Fheis Chonradh na Gaeilge a bhí ar siúl ar an Iúr an deireadh seachtaine seo caite.
Bhí imreoirí as Eanach Mór, Tulaigh Sháráin, Dromainn Tí, An tIúr, Béal Átha an Airgid, Port an Dúnáin agus Clann Éireann ar fhoireann Ard Mhacha. D'imir siad in eadán na nGael Óg as Baile Átha Cliath, Ollscoil Uladh Chúil Raithin agus Laochra Loch Lao as Béal Feirste. Club lánGhaeilge atá sna Gaeil Óga atá ar an fhód le cúpla bliain anuas agus an-rath orthu. An deireadh seachtaine céanna, bhí breis agus 60 Gaeilgeoirí a d'imir leis an chlub ar dhá fhoireann peile, ar fhoireann iomána agus ar fhoireann pheil na mban.
Imríonn Gaeilgeoirí ó chlubanna éagsúla i mBéal Feirste le Laochra Loch Lao agus bíonn siad páirteach i gComórtas Peile na Gaeltachta gach bliain in éineacht leis na Gaeil Óga agus foirne Gaeltachta. Bhí mic léinn le Gaeilge as Contae Aontroma, Contae Thír Eoghain agus Contae Ard Mhacha ag imirt le hOllscoil Uladh agus d'imir Gaeil Ard Mhacha leis an dá fhoireann.
Chomh maith leis an chomórtas do na fir, imríodh cluiche iomaíoch pheil na mban idir Gaeil Óga Bhaile Átha Cliath agus Laochra Loch Lao Bhéal Feirste. Sháraigh Gaeil Ard Mhacha Na Gaeil óga agus Ollscoil Uladh ach níor éirigh leo Gaeil Bhéal Feirste a chloí. Bhí ionadaíocht ag Ard Mhacha ar fhoireann Bhéal Feirste le Niamh Nic Ruairí ón Lorgain.
Sa deireadh, bhí Laochra Loch Lao ró-láidir sa dá chód agus thóg siad an dá corn ar ais go Béal Feirste iad, ach ba é an príomnhbhuaiteoir ar an lá ná an teanga nó ní raibh focal Béarla le cluinstin ar an pháirc.
Dúirt Seán Ó Maoilsté, Oifigeach Gaeilge le CAIRDE Teo in Ard Mhacha agus ball de Chumann De Bhuilbh Tóin agus Naomh Éanna i nDoire Mhic Cais, dúirt sé gur bhain a raibh i láthair an-sult as an lá. "Deis iontach do na himreoirí a gcuid Gaeilge a chleachtadh agus molaim lucht eagraithe na hArdFheise as an chomórtas a chur san áireamh.
Bíonn neart Gaeilgeoirí ag imirt peile, iomána agus camógaíochta ach is annamh a bhíonn deis acu an teanga a chleachtadh, go háirithe ar an pháirc imeartha. Ba chóir go raibh an CLG i bhfad níos gníomhaí leis na deiseanna seo a chruthú do Ghaeil. Tá obair iontach ar siúl ag baill aonair sna clubanna agus sna contaethe agus fiú ar Choiste na Gaeilge de chuid Pháirc an Chrócaigh ach tá sé thar am do na húdaráis aitheantas ceart a thabhairt do bhunreacht na heagraíochta."
Tá Seán ina bhall de Choiste Gaeilge CLG Ard Mhacha agus chuir sé in iúl gur ríthábhachtach le Bord an Chontae sin an Ghaeilge. "Cuireann CLG Ard Mhacha béim ar an teanga trí hailt a chur sna cláir, trí phróifílí dátheangacha imreora, trí fhógraíocht, tríd an Scór, trí scoláireachtaí agus bailiúcháin a eagrú, trí dhianchúrsaí a sholáthar agus trí cheardlanna rialta. Tá roinnt mhaith imreoirí idirchontae ag tacú lenár n-iarrachtaí agus tá siad breá sásta a gcuid féin a dhéanamh chun leas na Gaeilge in Ard Mhacha."
Short URL: https://newrytimes.com/?p=30604
Posted by
Newry Times News
on Apr 15 2013. Filed under
Community
,
Sport
. You can follow any responses to this entry through the
RSS 2.0
. You can leave a response or trackback to this entry