Crossmaglen Commemorates the Easter Rising
The 97th anniversary of the 1916 Easter Rising was marked by Republicans from Crossmaglen and the neighbouring areas on Easter Sunday morning as hundreds gathered at the Ranger's Hall to follow the traditional route through the town to the Republican Plot in the local graveyard.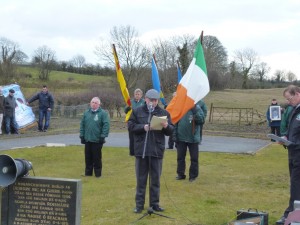 Councillor Terry Hearty, who chaired the event, was assisted by members of the Morris Harvey Cumann who read the 1916 Proclamation and the South Armagh Roll of Honour and laid wreaths to commemorate those who lost their lives.
The guest speaker for the occasion was Belfast republican Sean Murray who began by remembering all the local Volunteers buried in the graveyard.
"On this the 97th anniversary of the Easter Rising we remember with pride all those who sacrificed for Irish freedom.
"There are many many people buried in this graveyard who played their part in this country's struggle, none more so than Volunteers Barney Morris, Seamus Harvey, Brendan Burns, Malachy Watters and Francie Caraher, today we keep them in our thoughts.
Sean went on to speak of the creation of a new, united Ireland where all citizens are treated as equals. "Partition stunts Ireland's potential — politically, socially and economically. Sinn Féin is the only party with a realistic strategy for the achievement Irish unity.
"15 years ago the Good Friday Agreement was signed, it provides for a Poll on Irish unity. Such a Poll provides an opportunity for debate on the future of Ireland.
"We know from recent census figures that the political geography of the North is changing. 40% stated that they had a British only identity, 25% stated that they had an Irish only identity and 21% had a Northern Irish only identity. That's 46% with some form of Irish identity. The North is clearly no longer an Orange state.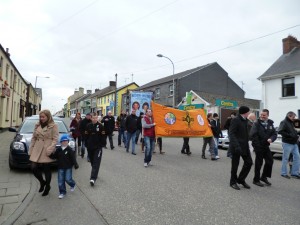 Sean continued, "Sinn Féin believes that the time is now right to demand that a Border Poll be held and to advance this campaign and I am aware that Crossmaglen and neighbouring Creggan Upper in Co Louth will be holding its own People's Border Poll on 25th May this year.
"I hope that this campaign will provide an opportunity to begin discussing a modern, dynamic, new Ireland. It's time to let the people have their say. The new Ireland which we strive towards will make the vision of 1916 a reality.
"In a republican Ireland the wealth of the country would belong to the people of Ireland and our natural resources would be exploited in the interests of Irish citizens not transnational corporations.
"The new Ireland we seek to build is inclusive, where all the elements of the Irish nation — including those in this country who regard themselves as British — are comfortable, secure and can find the fullest expression of their identity.
"Unionists and republicans working together inside and outside the power sharing institutions can help to lead our society to healing and mutual respect.
"Irish citizens are facing economic hardship at this time. Hundreds of thousands of our people are unemployed. Hundreds of thousands of others are struggling to survive. Highly educated, intelligent young people are leaving the country as emigration once again becomes a safety valve for those in power.
"In the North, the British Conservative party policy threatens to destroy the economy through the imposition of a savage cut of €4 billion to public funding. Meanwhile the Fine Gael/Labour Government is implementing failed Fianna Fáil policies in direct breach of their election promises and its not working.
He added, "In the North Sinn Féin has led the political resistance to Tory cuts and has worked to offset their effects on the most vulnerable. As a result, the Executive has prioritised finding money to maintain front line services, protect those on lowest incomes and communities which were subject to decades of economic discrimination.
"It also committed not to increase student fees or introduce water charges. Republicans are about nation building.
"We are about laying the foundations for a New Republic — a real republic with social justice and equality at its core. Let us go from here today even more determined to build that republic."
Short URL: https://newrytimes.com/?p=30354
Posted by
Newry Times News
on Apr 3 2013. Filed under
Community
. You can follow any responses to this entry through the
RSS 2.0
. Both comments and pings are currently closed.