GAA Financial Report 2012
Posted by
Newry Times News
marketing.newrytimes@gmail.com
Monday, March 11th, 2013
Features
,
Sport

The GAA released their 2012 financial report for public consumption last week. I took a look at the details of the report and what I found was quite interesting for you connoisseurs of the national pastime.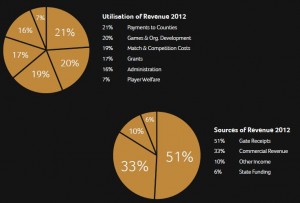 The epic replay of the hurling All Ireland final between Kilkenny and Galway meant that Croke Park made a clear profit of €1.2 Million and was a major contributing factor to the association raising their revenue by almost €6 million – €46.8m in 2011 to €52.7m in 2012. We must also factor in that the 2011 figures are for 10 months and not 12 months. The ticket price from that hurling All Ireland replay actually cost the GAA a cool €1 million. This is because they slashed the ticket prices from €80 to €50 per ticket to take in to account the ordinary punter and families wanting to go to the reply in this tough economic climate. Now that this precedent has been set, it will be interesting to see if Croke Park repeats this policy for any future All Ireland replays. Director general Páraic Duffy had hinted last week that this is the position they are likely to repeat in the future.
Hurling more lucrative.
One feature of the report that has been enlightening is that hurling is quite more lucrative for the Association in terms of the revenue stream it generates on a game per game basis. We can see this by looking at these statistics: For the 13 All-Ireland Senior Hurling Championship games last year they took in slightly over €8m, whilst their football counterparts in comparison took in €10.9m from 31 All-Ireland series games. That said, the Christy ring cup organised for the middle tier of hurling counties made a loss of
€201,985
and perhaps is something that will be looked in to more closely.
Allocation of funds.
Although the books look healthy most of the money is given out for the development of the games and has already been shared out to clubs and provincial boards
(We have compiled a list of all monies given to clubs in Armagh and down).
The actual surplus money in the coffers at headquarters is only €36,744. What the report highlights is that while the inward revenue stream is quite good, counties and clubs are struggling, although there has been a marked improvement in this from 2011 when 13 counties returned deficits that is down to seven counties last year. Financial director Tom Ryan said, "To be honest, the things that concern me aren't really in this report. The things that would concern us a little bit are the financial difficulties facing counties and clubs. "Thirteen counties returned deficits in 2011 — that was reduced to seven counties in 2012, which is a positive. Revenues at local level are being severely curtailed. "Oddly enough, it's not particularly on the gate side of things but more on the commercial side where people are finding it difficult to augment their gate receipts with sponsor income. That's where the big pinch is being felt. "When I talk about the €11m that is distributed out of here it is terribly important that we commit to that level of funding every year. It gives the clubs and the counties some degree of assurance about a base-line that they can rely on. Ryan added, "The counties need to get better at handling their costs. We've seen a huge improvement over the course of 2012 from 2011 and I hope that continues in 2013 and if that happens we will be in a better place."
Investment in Casement Park.
The good news for Ulster GAA is that Croke Park is committed to investing in the redevelopment project at the epicentre of the GAA in Belfast, Casement Park. The GAA has earmarked £15 million Sterling to the project. Ryan added, "There's a finite amount of resources to go around. It mightn't necessarily be characterized as belt-tightening; it might be a more rigorous prioritization of things. We can't do everything everybody wants us to do over in a year."
Other Facts and Figures at a glance.
2,550 –
Affiliated GAA clubs playing the National Games.
302 –
International Clubs playing the National Games of Ireland.
1,360,071 – S
upporters that attend