Newry 1916 Easter Commemoration Association annual Easter Lily launch
Posted by
Newry Times News
info@newrytimes.com
Tuesday, March 5th, 2013
Politics
Members of Newry's 1916 Easter Rising Commemoration Association held a ceremony at the Republican plot in St. Mary's Cemetery on Sunday morning, 3rd March to launch the 2013 Easter lily campaign launch.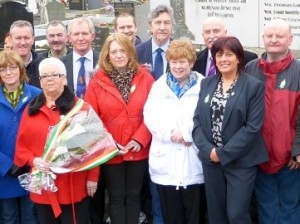 The 1916 Association: Éirí Amach Na Cásca 1916 – Cumann Cuimhneacháin an Iúir also known as "CASCA" was formed in November of 2012 and aims to promote Irish Republican culture and history in the Newry area and will be organising the Easter Parade this year. The Easter lily launch was attended by relatives of Newry's fallen IRA volunteers alongside Conor Murphy MP, Mickey Brady MLA and Councillors Charlie Casey, Brendan Curran and Valerie Harte. Brian Tumilty, Cathaoirleach(Chairperson) for CASCA addressed the gathering by welcoming those in attendance, especially the relatives of the fallen volunteers. Tumilty said, "The first Easter Lily badges were designed by Cumann na mBan back in 1925. The dual purpose of the badge was to raise money for the Republican Prisoners' Dependents Fund (PDF) and to honour the sacrifice made by the men and women of the 1916 Rising and the Tan War." "In the early years of its existence, people from a broad political republican spectrum – Fianna Fáil, Sinn Féin, Cumann na mBan the IRA and Fianna Éireann promoted the Lily as did organisations such as Conradh na Gaeilge. "In February 1935, the Fianna Fáil leadership instructed the party to stop selling the Lily as it was; 'the symbol of an organisation of whose methods we disapprove'." Tumilty added, "Newry Republicans – relatives of fallen volunteers – ex prisoners – old warriors – political activists – elected representatives and supporters are gathered here this morning at this significant and poignant monument and in a place that holds the graves of many of our republican heroes to launch the 2013 Easter Lily Sales campaign and encourage all Newry republicans and nationalists to purchase Easter lilies.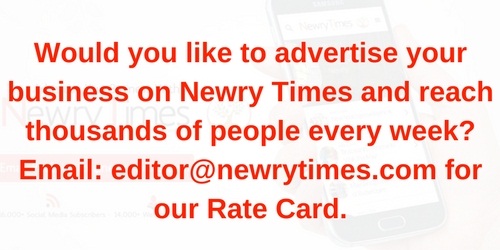 Both comments and pings are currently closed.