'Everything is against SME's' – Bradley slams Interest Rate Swap Agreements
SDLP Finance spokesperson Dominic Bradley has said everything is stacked against small and medium enterprises in the selling of interest rate swap agreements.
The Newry and Armagh MLA was speaking during a debate on Interest Rate Swap Agreements in the Assembly on Tuesday.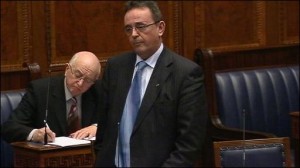 The Newry and Mourne MLA said: "I am struck by the similarity between the way IRSAs are sold to that of PPI. In many cases owners of SMEs were placed under duress by the banks and lenders.
"The implication was that if the SME owners did not enter into an IRSA arrangement to cover possible interest rises that the loan would not be forthcoming. The SME owner depended on their bank for working capital, loans, and overdraft facilities.
"IRSAs are extremely complicated financial products and SME owners entering into such arrangements would have needed sophisticated financial advice to understand what they were letting themselves into. This they did not receive and were bullied into positions which they ill understood.
Bradley continued, "Bully-Bank, the advocates for the beleaguered SMEs, described IRSAs as gambles on interest rates with the banks acting as the bookies.
"The only problem was that SMEs were never told that they were gambling with their money, possibly gambling with the future of their businesses, they thought they had bought insurance against interest rate fluctuations, only to find that they were paying through the mouth with no added advantage.
"I have to say, that what I have read about the way in which these products were sold shows that everything was stacked against the SME owner with the bank having the leverage of either granting or refusing a loan.
"The whole process of sale was tantamount to something approaching entrapment with the borrowers being left wide open for loss while the lenders risk was secured both in respect of the loan and the IRSA. If the original loan was secured the banks risk was well protected without the need for additional protection.
He added, "IRSAs were a money spinner for the banks and were pushed on people who were in a vulnerable position by people who masqueraded as advisors when, in fact, they were salesmen working to increase their commission and the banks' profits.
"I have studied the 14 point plan of the Bully-Banks paper 'The Case Against the Banks The Mis-selling of IRSAs'.
"I would be interested to hear from the Minister what we can do here to establish the extent of the issue, and what practical influence we can bring to bear on the banks to help ensure that the situation is addressed and rectified on a fair and equitable basis.
"I have no doubt but that the Committee for Finance and Personnel will also do what it can to help address the issue."
Short URL: https://newrytimes.com/?p=26475
Posted by
Newry Times News
on Dec 12 2012. Filed under
Politics
. You can follow any responses to this entry through the
RSS 2.0
. You can leave a response or trackback to this entry