'DUP seeking a return to domination politics' – McDonnell
SDLP Leader Dr Alasdair McDonnell has said that remarks made by the First Minister represent nothing more than a desire to return to 'domination politics' by the DUP. McDonnell was speaking after Peter Robinson addressed a gathering of South Antrim DUP activists.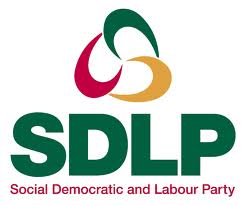 The SDLP Leader said: "Peter has grown so comfortable in his position of authority that he has deluded himself into thinking that everyone shares his opinions, when in fact nothing could be further from the truth. He falls back on flag-waving and hero-worship of King William III but claims to only have an eye to the future, not the past.
"If he truly had an eye to the future, he would recognise that Northern Irish society is not as clear-cut as he thinks. Uppermost in people's minds is the life they can expect in the present and the future, and in working class areas across Northern Ireland, the DUP is failing to deliver.
"The First Minister would not want me to talk about the work we in the SDLP do engaging with people in working class loyalist areas, but we do – in Antrim's Steeple Estate and elsewhere.
He continued, "What I hear is people saying that the DUP will try and keep those communities quiet by throwing money at the occasional project or using them as a stick to beat down cross border cooperation, but they are doing little to actively improve the lives and conditions of those areas they claim as their heartlands.
"Peter Robinson's ambition is not for the people of the North – it is for unionist domination at any price: starting with the repression of Irishness and the subsuming of the UUP.
He added "He has made his position particularly clear by saying he believes that a shared society means everyone sharing in being British – running contrary to all the fine words used when the Cohesion, Sharing and Integration working group was set up.
"This is the kind of sectarian, partisan hatred we heard from the DUP in the bad old days. Peter Robinson might speak with a softer voice than his predecessor, but his message is still the same: when it comes to a truly shared future, his opinion is still 'never, never, never.'"
Short URL: https://newrytimes.com/?p=26092
Posted by
Newry Times News
on Dec 4 2012. Filed under
Politics
. You can follow any responses to this entry through the
RSS 2.0
. You can leave a response or trackback to this entry