'If you look good, you feel good, if you feel good anything is possible' – Newry style coach Amanda Rafferty
Posted by
Emma Taylor
emma@newrytimes.com
Saturday, October 27th, 2012
Features
Newry Times is delighted to welcome Style Coach Amanda Rafferty as one of our newest columnists. Amanda may be familiar to many of you as a local style icon, and Buttercrane's go-to girl for all your style needs.
Amanda is a member of the International Association of Style coaches, which means that Amanda is well placed to offer style advice to the Newry Times readers. Amanda is also a professional make-up artist and can offer beauty advice to compliment her personal styling services.
When we asked Amanda about her new venture as a Style coach she told us, "What drew me to style coaching was the fact that it was a combination of a Personal Stylist and a Life Coach so you are working on the inside to help a client feel good as well as the outside to help a client look good!"
"
How many times have you heard yourself say, 'I have absolutely nothing to wear' when your wardrobe is busting at the seams? It really is a skill to learn how to shop smart and I'm here at Buttercrane Centre to help.
"Buying the wrong things is a sign that you don't truly understand what suits you or your lifestyle and that can be a very expensive mistake. We often talk about creating a capsule wardrobe and while that's a good start, not everyone likes a classic 'standard' look.
Amanda continued, "I prefer to talk about a 'living' wardrobe with key staples that interact with all your other pieces to create lots of different looks. This means taking the best items you may have already and updating regularly with new season looks, colours and accessories that fit, suit and flatter.
"Don't follow trends if they really don't suit you! It takes practice but with some sound advice from me and a few trial runs you'll be a style diva in no time."
 Speaking exclusively to Newry Times Amanda has shared some of her style secrets and advice types to give us a flavour of what to expect from her new column. 
Amanda explained, "When helping a client it is important that they dress to suit their shape, personality and lifestyle, nobody else's – we are all unique and should embrace our uniqueness." She also advises that her style types are not just for women, that men can also benefit from a bit of style advice. "I can teach anyone of any age – male or female – how to avoid being overwhelmed by choice and how to make a bee-line for their perfect pieces. Believe me, the positive effects of Style Coaching should never be underestimated in terms of boosting self esteem and your bank balance too!" "Feeling stylish is not always about the clothes you wear but a lot to do with how you see yourself in them. The aim is to become effortlessly stylish and comfortable in your own skin and it doesn't need to be complicated or expensive!" Finding the right clothes is hard but Amanda insists if you wear what suits you then you wont go far wrong. "I feel the biggest faux pas is when someone thinks that just because something is on trend they SHOULD be wearing it – this is not the case, you can incorporate bits and pieces into your wardrobe. "There is nothing worse than seeing someone in an item of clothing that suits neither them nor their shape, they look so uncomfortable, and confidence is key when it comes to style!" Speaking about what her new style column will consist of, Amanda added, "I will talk about what is on trend, what suits different shapes, yummy mummy's – what you can wear for the school run, make a few changes and suddenly it becomes a going out outfit – things like that!" Finally, we asked Amanda what her style mantra was and we got a simple, yet very effective reply; "If you look good, you feel good, if you feel good anything is possible."
Amanda's weekly column is coming soon to Newry Times.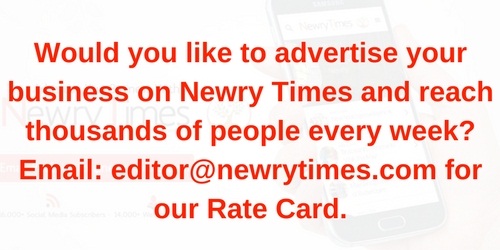 Both comments and pings are currently closed.