NIFRS appeal for a 'safe Halloween'
Northern Ireland Fire & Rescue Service (NIFRS) is appealing directly to the public to enjoy Halloween responsibly by always putting safety first and by following the Fireworks Code, to help ensure a safe 2012 Halloween for everyone in Northern Ireland.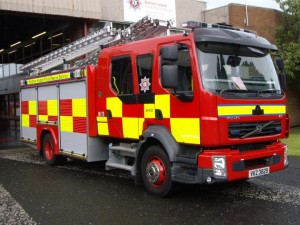 Last Halloween (31st October 2011), NIFRS attended the lowest number of incidents in 22 years (197 calls handled and 145 incidents attended) and the majority of incidents attended by Firefighters were to deal with fires involving rubbish, tyres and out of control bonfires.
Kevin O'Neill, Group Commander, Northern Ireland Fire & Rescue Service (NIFRS) explained,
"Although Halloween continues to be a very busy night for our Firefighters across Northern Ireland, we have made good progress over the past five years in reducing the number of incidents we attend at Halloween.
"Indeed, last year we seen the lowest number of incidents attended since 1989 and we welcome this reduction, but there is no room for complacency. We want to see this downward trend continue. We want everyone to enjoy themselves this Halloween but to do so safely and responsibly.
He continued, "Remember, Firefighters are not out to spoil anyone's fun and Fire Crews in your area are there to protect life, protect property and keep you safe. Last year's 41% reduction in the number of people attending Emergency Departments across Northern Ireland with firework-related injuries was the lowest figure since records began and this is extremely encouraging.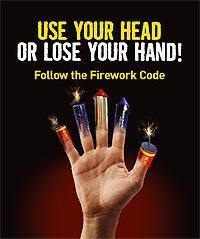 "However we want to reach a time in Northern Ireland when there are no firework-related injuries and we continue to work with our partner agencies in Health, Police and Justice to raise awareness about the dangers of fireworks."
O'Neill added, "I am appealing to young people, parents and community leaders to always follow the Fireworks Code and ensure that Fireworks and sparklers are used safely and in accordance with the manufacturer's instructions. Think safety first and plan any Firework display in advance to make it both safe and enjoyable.
"Our number one priority this Halloween is to protect our community and to keep everyone safe. By following a few basic safety rules and by putting safety first you can play your part in ensuring this Halloween is fun, but most importantly, safe."
Halloween Safety Advice
Fireworks: 
It is compulsory for anyone wishing to buy or use fireworks to obtain a Licence. The fee for a Fireworks Licence is £30 (if under 100 people attending) and application forms can be obtained from www.nidirect.gov.uk (search Fireworks)
Only buy fireworks marked BS 7114.
Don't drink alcohol if setting off fireworks.
Keep fireworks in a closed box when not in use and keep away from ignition sources.
Follow the manufacturer's advice on each firework and use them one at a time.
Light them at arms length using a taper. Stand well back.
Never go near a firework that has been lit, even if it hasn't gone off, it could still explode.
Never put fireworks in your pocket or throw them.
Always supervise children around fireworks.
Keep pets and animals indoors – the flames and noise upset them.
Don't set off noisy fireworks late at night and never after 11pm.
Sparklers:
Sparklers are often viewed as being harmless but they do burn at fierce temperatures. To a young child, the heat from a sparkler is equivalent to the heat from a welding torch.
Store sparklers in a closed box in a cool, dry place.
Always light sparklers one at a time and wear gloves, keeping them at arms length.
Never hold a baby or child if you have a sparkler in your hand.
Plunge finished sparklers hot end down into a bucket of water as soon as they have burnt out. Sparklers stay hot for a long time.
Don't take sparklers to public displays. It will be too crowded to use them safely.
Never give sparklers to under 5s – they will not understand how to use them safely.
Always supervise children using sparklers, give children gloves to wear and teach them how to use them properly.
Short URL: https://newrytimes.com/?p=23882
Posted by
Newry Times News
on Oct 16 2012. Filed under
Community
. You can follow any responses to this entry through the
RSS 2.0
. You can leave a response or trackback to this entry