Joe Brolly's kidney donation highlights GAA solidarity
I know Joe Brolly through writing for some years about the GAA and have met him on several occasions. One thing that many people do not realise is that Joe Brolly is quite a selfless man.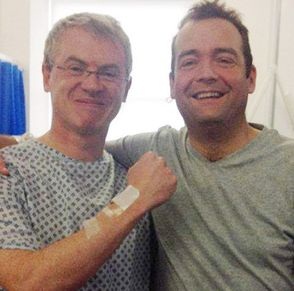 He gives his time freely to clubs across the island of Ireland and asks for nothing in return. I organised a talk about the GAA for a club in west Belfast that was in dire need of financial help to get their underage football and hurling up and running.
I asked Joe Brolly to come along as I knew he would draw a crowd, he answered within 5 minutes of me texting him to tell me he would love to come along. I was ecstatic that Joe said yes but after learning that he broke his arm a few days later playing for St. Bridget's I thought he wouldn't show up.
No chance. In comes Joe after driving from south Belfast to the Fall's road with one arm in a sling! He tore pieces out of Jarlath Burns who was also a panelist that night, he was some craic.
It came as no surprise to all the Gaels who know Joe when we learned of his great gift to Shane.
Unfortunately after donating one of his kidneys to club mate and fellow St. Bridget's under 10's coach Shane Finnegan it has sadly been unsuccessful according the Belfast Health Trust.
The organ donated by Brolly stopped working and was removed in a London Hospital on Friday after complications.
"We can confirm that Mr Brolly is recovering very well having donated his kidney on 3rd October," said a trust spokeswoman.
"However, sadly after initially functioning well, there were complications with the transplant and the kidney had to be removed on 12th October."
40-year old Finnegan has been experiencing health problems for 20 years and this is the third transplant that has failed, but he hopes to resume a normal family and working life in the near future.
"This is a rare and unfortunate occurrence after kidney transplantation, and whilst both families are naturally devastated, they are hugely encouraged by the massive wave of good will and support from the community and the resultant increased public awareness of the critical importance of organ donation," the spokeswoman continued.
"Mr Finnegan is confident that with the continued support of family and friends he will be home soon and able to resume a full family and work life.
"Both Shane and Joe are very keen to support the trust's campaign for organ donation and when fit and ready have agreed to spearhead a drive to increase the number of donors. For both men and their families, this has been a life affirming experience."
Joe, who is a two-time winning All Star, was lauded for his altruism after the operation became public knowledge not just by the GAA community but by everyone who learned of his gesture.
His kidney donation to Shane will hopefully highlight the importance and need of donors and that is at least something positive that has come out of this. It has also highlighted the solidarity that exists within the wider GAA family and Joe has led from the front in the spirit of the Gael.
Short URL: https://newrytimes.com/?p=23961
Posted by
Newry Times News
on Oct 16 2012. Filed under
Sport
. You can follow any responses to this entry through the
RSS 2.0
. You can leave a response or trackback to this entry