Gerry Flynn: My story at Newry City FC

In an exclusive interview with Newry Times, ex-Newry City manager Gerry Flynn speaks from the heart and reveals in a frank and candid interview his side of the story regarding the events that have led to the increasingly likely demise of Newry City FC.
Gerry Flynn first joined Newry as a player in May 2005 but when the manager's post become vacant, Flynn was appointed to the hot seat in January 2007, where he  reveals he was employed by Jim O'Brien and Bernie Keenan.
"I didn't have a contract with the club. We had a gentleman's agreement because I knew the integrity of the two men."
But when Jim Feenan and Paul McKenna joined the club, Flynn claims it was interference from the latter of the two men that forced him to resign his position in September 2009.
"It got to the stage where I wasn't enjoying it anymore because of what was going on behind the scenes. Mr. McKenna interfered with team affairs and I resigned because I just couldn't hack it any longer."
At the time Flynn vowed never to return to Newry while Paul McKenna was at the club but he made a  U-turn in March 2010.
Following lengthy discussions with both Mr.McKenna and Mr.Feenan, Flynn began his second spell as manager of club.
"I met with Mr.McKenna and Mr.Feenan and I agreed to come back to the club. This time I wanted a contract because of what happened the last time and also because Jim O'Brien and Bernie Keenan were no longer involved in the day to day running of the club.
"Also, one of the conditions I insisted on was that there should be a management committee within the club and any major decisions should go through them."
But in January 2011, the relationship between Flynn and McKenna deteriorated as Flynn claims McKenna reduced his and three other members of staffs' wages without prior consultation.
Following this, Flynn claims he wasn't consulted when two members of his coaching staff were let go.
"On the Monday afternoon (31st January 2011) Robbie Casey phoned me to say that Peter Murray and Ian Lynch were no longer with the club. I said that can't happen, as any major decision within the club must be put towards the management committee."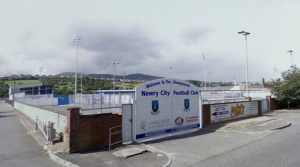 "So on the Tuesday night, myself, Peter Murray, Pat McAllister and Ian Lynch took training. Then on Wednesday night Mr.McKenna informed me that following discussions in a meeting, the club had decided to let me and the boys (Murray, McAllister and Lynch) go."
"I said no problem Paul, just put it in writing to me and that was it."
Flynn reveals he never received any correspondence from the club and on the Saturday of that week the club issued a statement to the BBC that he had been sacked because of results.
"At any stage, if they had of come to me and said it's not working out, will you walk away Gerry, I would have said fair enough, I've given it my best shot and I'll walk away happily. That never happened so I got a solicitor involved."
"I went ahead with my claim and was eventually awarded £25, 050."
"It's now been going on over 18 months. On the 6th September (this year), when the initial winding up order was to be heard in court, there was a supporter willing to pay the £25,000 owed to me which would have stopped the winding up order.
"Paul McKenna and Jim Feenan wouldn't give permission for that to happen as this needed to be granted by the Limited company. Bernie Keenan, along with a solicitor went down to the court that day to confirm he was a trustee and he got a stay of execution for two weeks."
He continued, "Jim O'Brien was willing to come in and invest in the club again. We had come up with an idea called the 'Friends of Newry' to pay off the club's outstanding debt to the Ulster Bank. We were also speaking to a creditor who was owed money. I was willing to pay back the £25, 000 that the club had to pay me."
"If Paul McKenna were to do anything right he should inform the IFA that they are not going to appeal the winding up order because they have no grounds to appeal it  seeing as they never showed up to court twice."
"The only way possible that anything can be salvaged from this is if the two trustees were to get a group of people to come in and take over the running of the club, prove to the Court and the IFA that they are going to take over the debt and hope the IFA and the court overturn their decision."
Flynn added, "I love Newry City Football Club with a passion because of certain people in it and the way I was treated the whole time I was there.  I've got nothing at all to hide, there's no skeleton in my closet and there'll be a lot more that's going to come out about this. I'm gutted it's come to this because quite easily it could have been saved."
"It is only now I know it was a grudge and he didn't want to lose to me, there is also the question of the £540k debt they have run up."
Despite the plight the club find themselves in, Flynn believes there can still be some positives taken from  it. "If Newry need to start all over again –  one, two or even three leagues down then so be it. They'll be debt free and they'll be rid of the man who has put them in the position that it's in."
Short URL: https://newrytimes.com/?p=22924
Posted by
Sean McKevitt
on Sep 23 2012. Filed under
News
,
Sport
. You can follow any responses to this entry through the
RSS 2.0
. Both comments and pings are currently closed.