'I was sickened by 1972 IRA border attack' – Newry Lord Mayor
Newry Lord Mayor John McArdle has spoken of his revulsion at an IRA bomb attack carried out four decades ago.
The SDLP Councillor said he and the city were 'sickened' by the 1972 attack by the Provisionals which left nine people dead. McArdle, who was a nurse in Daisy Hill Hospital at the time, spoke to the News Letter about the August 22nd bomb at the customs post along the border.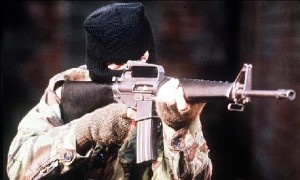 Recalling the attack, McArdle said, "The memories of that day were awful. Newry was astonished and numbed and the staff at the hospital were astonished and numbed. I remember the people in the hospital were just sickened and that was just like a microcosm of how Newry itself felt."
Mayor McArdle, who is still a nurse in Newry, insists that most people in the area either have forgotten about the bomb or have 'moved on' from that dark summer day.
"I would say eight out of 10 people won't remember it. People now want to move on. There were some awful memories of those days. Now it is probably only those that suffered and lost loved ones who would still be concerned by anniversaries like these."
Speaking about his own belief that violence was not the answer to the constitutional issues in the North and South of Ireland, McArdle continued, "As for myself, I was totally opposed to all violence during the Troubles. I did not work healing the sick during the day to be going out and killing and maiming them at night."
Two lorry drivers who were waiting for clearance at the customs post were killed when the 50lb the bomb exploded and Danny Kennedy reminisced on what he described as a 'sad anniversary in Northern Ireland's history'.
"These events changed the lives of many people. The injuries sustained and lives lost still impact on people today. Unfortunately this is a legacy they did not seek to inherit. The innocent victims were caught up in events not of their making, although it has had a lasting affect on them."
Newry and Mourne DUP MLA William Irwin, who was a teenager at the time of the attack, said he remembered the general shock and disgust displayed by people across Northern Ireland at what he described as a 'brutal incident'.
Speaking to Newry Times, Irwin stated, "Looking back at this period and the regularity of attacks on the innocent, it is sickening to think of how many people lost their lives at the hands of the IRA.
"Of course the pain and discomfort lives on for those families affected by these bloody terrorist acts and the reality of a long and bloody campaign of murder will not be forgotten."
Short URL: https://newrytimes.com/?p=21713
Posted by
Newry Times News
on Aug 23 2012. Filed under
Community
,
News
. You can follow any responses to this entry through the
RSS 2.0
. You can leave a response or trackback to this entry