Summer holiday tips worth packing!
It's bang smack in the middle of our glorious Irish summer and with little sign of Mr Sunshine and too many outings with the raincoat and umbrella, many of us are looking forward to the annual fortnight abroad for some sun, sea and relaxation.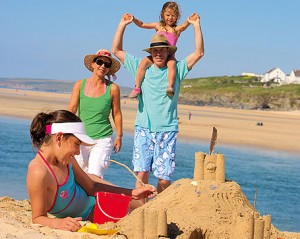 We spend days, weeks and plenty of money getting our bodies looking beach ready – spin classes, 6 week detox programmes, the 'no carbs before marbs' mindset. Then many of us, unfortunately, sabotage all of our good work in those 7-14 days.
Pack these simple tips for damage limitation and hopefully you'll come home with a tanned beach body instead of a few extra pounds!
1. A holiday is a great time to start a new healthy living lifestyle – you've no work commitments and all your meals are handed to you, take full advantage of it!
2. Drink plenty of water with lemon to keep hydration up; all that alcohol and humidity can leave skin looking tired and lack-lustre.
3. Pack healthy treats such as Oatcakes and Nuts. After a hard day by the pool, you're getting ready for your night out, these snacks will ensure you keep blood sugar levels stable and don't end up gobbling up the bread basket when it arrives!
4. When at the buffet breakfast, think portion size – just because it's free doesn't mean you need to eat two of everything!
Go for healthy options such as:
Poached eggs, omelettes, fruit, plain yoghurt, grilled bacon, wholegrain toast.
Avoid:
Jams, buns, pastries, fried sausages, cheeses and croissants.
A high sugar fueled breakfast will only lead to sluggishness and a bloated look.
5. Have treats but limits to one a day. Yes, 4 ice creams a day is still unhealthy even in sunny Spain eating it walking along the beach!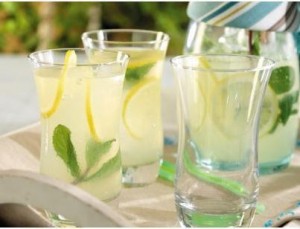 6. When choosing alcohol, remember:
– your metabolism slows as your liver tries to remove the toxins. Try to do a little light exercise the day after, think swimming in the pool or a long walk on the beach, incorporate lots of fun filled activities rather than spending hours lying on the beach, and treat your body with fresh, wholesome foods.
– choose light coloured drinks, avoid or limit creamy pina colada style drinks. Think vodka and tonics, even non creamy cocktails have high amounts of sugar which equals bloated body and 'carb face', not a good look in a polka dot bikini!
7. Heap your plate with fiber-rich veggies, not only are these perfect for your waist, they're also jam-packed with fibre to improve bowel health and ensure your stomach remains flat for every bikini snap!
8. If treating yourself to dessert, avoid the bread and say no to that starter. Try and order your food first when out eating in a group as this will reduce temptation when others order forbidden foods in your presence.
9. Pack a resistance band in with your bikinis and keep up those toned arms you worked so hard to get all spring, no-one said looking good was easy!
10. Ask for sauces on the side and chose tomato based dishes with some lean protein rather than creamy carb filled pastas.
LISA'S TIP:
Don't skip meals – eating a huge breakfast then sleeping all day with only an ice cream and a cocktail by the pool is the fastest way to pack on the pounds! A healthy summery salad will keep your metabolism up and has a lot less sugar and fat than those indulgences you had, yet tell yourself you didn't eat lunch which triggers a feast at dinner time! Eat regularly and healthily, nothing comes without effort and you're worth the effort!
Short URL: https://newrytimes.com/?p=20030
Posted by
Newry Times News
on Jul 25 2012. Filed under
Features
,
Lifestyle
. You can follow any responses to this entry through the
RSS 2.0
. Both comments and pings are currently closed.