Caroline O'Hanlon: 'We're ready to take on the world'
Local netball star Caroline O'Hanlon writes for the Newry Times from the World University Championships in South Africa.
We've had our sights set on this event for the best part of a year, so it's great to have arrived in Cape Town – and the fact we're up against hosts South Africa in the tournament opener undoubtedly adds an extra edge.
Naturally they'll want to put their best foot forward at home but we've plenty of experienced players who will hopefully thrive on the atmosphere and really rise to the occasion. You get into sport to play on the big stages and test yourself against the best.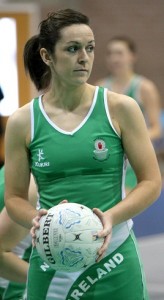 People are drawing parallels between this tournament and last summer's World Cup when we did well, though ironically the one thing that has niggled ever since Singapore was our 46-41 defeat against South Africa. I understand that a couple of their team from that match are in the SA Students squad and we'll have a few survivors from that clash too who would quite like to turn the tables.
A victory there would have put us in position to finish fifth in the World Cup so it was agonizing to fall just short but, especially with Australia and New Zealand not fielding teams here, we have high hopes of making the WUC semi-finals. That might sound ambitious for an Irish team and we won't be getting ahead of ourselves, but we believe that is a realistic target given the strong squad we have and a lot of experience playing together.
We're fortunate in that the particular circumstances of several senior internationals ties in with the eligibility criteria, so our age profile is probably a bit higher than average but we must make that extra experience count. For one reason or another we're probably closer to national squad strength than most competing countries with nine full internationals including eight from the recent European Championships.
The small player pool in Northern Ireland is an advantage in this case as there's a greater familiarity factor of playing with and against each other so hopefully that will work in our favour along with how committed we've been to this tournament from a long way back.
These World University Championships have been on our radar since last year and I think it's significant that everyone eligible for the Irish team has made themselves available whereas some countries perhaps haven't embraced it so enthusiastically. We've worked hard in preparation for this competition and are funding the trip ourselves which shows the commitment that's there in the group. Once it became clear I was eligible I didn't need much persuasion to sign up, especially with Elaine in charge.
We'll respect every team we face this week but our objective is to get to the semi-finals and take it from there and starting with a win would not only put down a marker but potentially open up a more favourable route towards the final. Whoever finishes top of our group will probably avoid Uganda in the quarter-finals and would maybe get the GB Universities side in the semis rather than Jamaica who many consider tournament favourites even though the British are top seeds.
Of course, regardless of the result against South Africa, we won't take anything for granted in our remaining group games with the USA and Zimbabwe, both of which we would be expected to win. Netball may not be that big in America but they're likely to have a mix of basketballers and athletes from a Caribbean background. College sport is huge in the States and they'd hardly be coming all the way to South Africa without hope.
That match has banana skin potential and, like all African sides, Zimbabwe will probably be pretty physical but we must back ourselves to beat these teams. As someone said, we need to be ruthless against the lower ranked teams and fearless against those ranked higher. Whoever tops our group would be big favourites against Namibia, assuming they finish below Uganda in their pool, in the quarter-finals and then feel they'd a decent chance against GB Universities in a semi.
Some of our girls played against a GB Universities selection in the Euro warm-up tournament in Glasgow in early May – I missed the match due to work commitments – and our Northern Panthers team only lost 45-43. In ways it's disappointing that the Aussies and Kiwis aren't here but it opens up the field for everyone else and, in spite of some uncertainty at times in the lead-up, I think this has the potential to be an excellent tournament and a useful addition to the international netball calendar.
The teams are staying in a nice hotel and Cape Town is a beautiful city but we've a very professional focus and, with an intense schedule of nine matches in 10 days between the two legs of the tour, there won't be much time for sightseeing or sampling the local culture. Seven of the Irish Students will be involved in the Test series against South Africa afterwards so we'll probably be seeing plenty of some of their players over the next couple of weeks.
It'll be a great test of fitness and character as well as technical ability but I believe we can compete with anyone here helped by the fact that the girls get on well – which is particularly important on a tour.
I'm sure that strong squad spirit has contributed to the success we've had in our last two tournaments overseas, so hopefully that can continue, but we're experienced enough to know that we must take one match at a time and deal with what's in front of us.
Short URL: https://newrytimes.com/?p=18485
Posted by
Newry Times News
on Jul 2 2012. Filed under
Sport
. You can follow any responses to this entry through the
RSS 2.0
. Both comments and pings are currently closed.