Newry City Ladies, Meet the Players: Clara Mulvenna
Posted by
Newry Times News
marketing.newrytimes@gmail.com
Wednesday, June 6th, 2012
Sport
People talk about the five internationals Newry City Ladies have, and one of them is Clara Mulvenna. Clara has not only been a part of Newry City Ladies on-going success but also she has recently captained the Northern Ireland U-15 team that went on to win the Bob Doherty Tournament. Speaking to Newry Times, captain Aoife Lennon commented that, "Clara is an exciting young player for the future who has already been honoured by captaining the N Ireland U15s to Bob Doherty Cup success this year. Clara is hard working and full of talent, always with a smile on her face and she is a joy to to play along side. I believe Clara has a massive future in football and is capable of rising to the top, keep up the hard work girl." Newry Times caught up with Clara to find out a little more about her:
Name:
Clara Mulvenna.
Age:
15.
Position:
Center Back.
Previous clubs:
Warrenpoint Town FC.
Greatest achievement so far in your career?
Captaining and winning the Bob Doherty Tournament with Northern Ireland under 15s this year.
Best player you have played against?
I would have to say the Newry girls, I'm yet to play against them but training sessions is enough for me, there is just too many of them!
Best ground you have played in?
Reebok Stadium in Bolton.
Who is your sporting hero?
Rio Ferdinand.
If you were to throw a party which celebrities or sports people would you ask around?
Cristiano Ronaldo for obvious reasons! And Messi, Eric Cantona or Rooney!
What club would you like to play for in the future?
I love playing at Newry but to play with Arsenal Ladies would be a dream!
What is one thing that you enjoy while playing football?
The girls at Newry are amazing. I love being a part of a team who mix together so well and know how each individual plays.
What inspires you to play football?
Watching other people play the sport and to see the excitement they get out of it makes me want to play even more!
What is your least favourite training drill?
Fitness/Running – not good at all.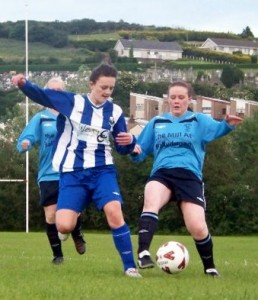 Who has been the biggest influence in your career so far?
My family, mainly my dad.
What brought you to play for Newry?
I knew I had to stop playing boys football at some stage, then when I seen the Newry Girls in the newspaper my dad influenced me to go up and see what it was like and I loved it so I've been here ever since.
Who is the biggest joker in the team?
Aoife Lennon, she definitely has a few classics!
Which team mate has the biggest bag of toiletries?
Again would have to be Aoife Lennon!
Who is the best trainer at the club?
Lisa McCann gets her head down and works from start to finish in training!
Who is the best/worst dresser in the team?
We all look like a team now so for me it's hard to say.
Who has the worst taste in music in the team?
Has to be John Feehan or my dad singing away before all the games! Haha.
And finally…What's your favourite thing about playing for Newry?
The girls at the club are fantastic, no matter what everybody always comes to the games with a smile on their face raring to go and the bond and support between us and the staff is amazing. You just have to love it!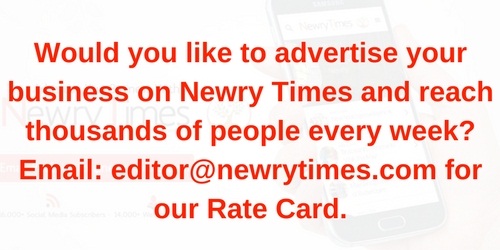 Both comments and pings are currently closed.