Newry aims to lead the way in electric cars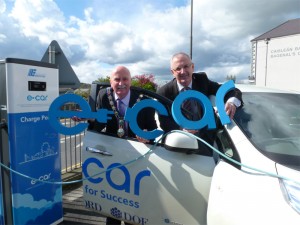 Newry and Mourne District Council's ambitions of leading Northern Ireland towards a sustainable energy future has this month taken a step further with the installation of electric vehicle charging infrastructure in the city. As part of Newry & Mourne efforts to become the regions leading eco-city, Regional Development Minister Danny Kennedy attended the launch of the infrastructure that will support the increasing number of owners and drivers of electric vehicles in Northern Ireland.
An electric vehicle or 'ecar' is any vehicle that is powered, in full or part, by a battery that can be charged by plugging it directly into a mains electricity supply. The Minister arrived at Bagenal's castle in a car wholly powered by batteries to reveal details of the first phase of public charge points that have been appearing in cities and towns across Northern Ireland.
Newry & Mourne Mayor Charlie Casey stated "I see electric vehicles as an exciting part of our City's transport future and Low Carbon City project. I look forward to seeing the benefits which the project will undoubtedly bring and its contribution to climate change, improvement in local air quality and noise reduction. Newry and Mourne District Council realises that it has a moral, statutory and environmental duty to lead by example and to ensure, that where possible, all its actions and the services that it delivers protect and enhance the sustainability of our local environment. The Council is committed to reduce our carbon footprint and change a number of it's vehicles to electric over the next few years "
Minister Danny Kennedy said: "Newry and Mourne District Council is to be congratulated on taking this forward facing step by embracing the technology that is changing the way we think about transport.As one of the first Councils in Northern Ireland to install public charge points for electric vehicles it is helping lead the way for sustainable transport that will not only benefit us, but generations to come.
He continued, "Working together we can make changes that will benefit everyone in Northern Ireland. I commend the Council and share their vision for a city in which citizens, business and government sustainably live, work and interact, through delivery of integrated, low carbon products and services. Whether we use the car for personal or commercial reasons, electric vehicles, with a typical range of around 100 miles on a full charge, now offer a tangible alternative to petrol or diesel fuelled vehicle."
Over 40 public 'opportunity' charge-points are now available in Belfast, Londonderry, Newry, Armagh, Enniskillen and Larne. Over the next year this number will increase to around 140. Special rapid chargers will also be introduced close to major roads that can charge a vehicle to 80% of its capacity in just 25 minutes. Charge Points in Northern Ireland and Republic of Ireland are fully compatible. There are charge point location maps and more general information at www.nidirect.gov.uk/ecar.
The first 300 private or business users who buy an electric vehicle qualify for a £1,500 grant to install a charge point at their home or workplace. Other financial incentives include exemption from fuel duty, vehicle excise duty, company car tax, van benefit charge and fuel benefit charge. Business users can also benefit from enhanced capital allowances. Charging points have now been installed at Bagnegal's Castle, Canal Court Hotel, Newry Rail station, Fiveways and Hill St. Over the next few months charging points will be installed across the district.
Short URL: https://newrytimes.com/?p=11918
Posted by
Declan McAteer
on Apr 30 2012. Filed under
Community
. You can follow any responses to this entry through the
RSS 2.0
. You can leave a response or trackback to this entry