Crossmaglen Rangers club notes – 23rd April 2012
Crossmaglen Rangers G.F.C.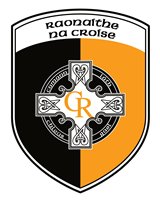 An extremely busy week on the football front with teams involved at all levels. Messages of congratulations continue to arrive and we would like to thank all those who sent same. It never ceases to amaze me the generosity of our supporters and the club would like to thank Raymond Watters of the Old Coach Inn Castleblayney for the reception he laid on for the team on their return from Breffni Park. We would also thank Mona Mc Entee for her generosity and hard work over the years and also Martin Bros, for the use of their equipment over the years. The club has received donations from all the business in the area and I would ask our members to support us. Some things never change an as soon as one year finishes we have to start fundraising for the next one. With this in mind we have two major fundraisers planned for the next couple of months.
Golf Classic Sponsored By P Rogers &Co. Building & Civil Engineering Contractors.
Once again we are indebted to our very generous sponsors who continue to support this very prestigious event. Our golf classic is now recognised as one of the most successful and social events on the golfing calendar. We have teams coming from Galway, Westmeath, Dublin Tipperary,Meath. Following the success of last year we have returned to Concra Wood Golf Course Castleblayney.The competition will be held on Friday 6th July and as their few places left early booking is advisable. Places can be reserved by contacting Joe Kernan, Gene Duffy, Michael Mc Enteggart or on the club Website.
Club Draw.
We will be organising a large Raffle over the next few months and we will be seeking the assistance of all our supporters, particularly all those who live further afield so we can spread our net further afield. Other clubs will tell you that Crossmaglen has always been very generous in their support of the G.A.A. cause, now is the opportunity to seek help in return. More details next week.
Senior League.
In what was to be a very busy week we made the journey on Wednesday last to take on old rivals Pearse Ogs. Played in ideal conditions it was our opponents who opened the scoring with a point but that was as good as it got for them as eight points in a row left us in the driving seat approaching half time. The sequence was broken when in an isolated raid the home side scored a point. We finished the half with a goal and a point to leave the half time score Rangers 1 – 9 Pearse Ogs 0 – 2. On the resumption it was the home side who displayed the greater urgency and after ten minutes had two points on the board. Eventually we got a grip on the game and responded with two points of our own, these were to be our last scores as over the last fifteen minutes the city scored four points without reply to leave the final score without reply. Final Score Rangers 1- 11 Pearse Ogs 0 – 8. Our third match of the week was at home to Maghery,unfortunately the outcome was not as good as the previous two. Perhaps we were feeling the effects of our earlier games as we appeared to be very sluggish while our opponents were very sharp. They completely dominated the first twenty minutes and were 1- 4 up before we registered our first score. Our caused was not helped when we lost a man when we conceded the goal. The decision to allow the goal was entirely wrong as our defender was clearly fouled. After this it was an uphill battle and we went in at the interval with Maghery leading 1 – 7 to 0 – 2. The second half followed a similar pattern to the first with Maghery much sharper and making the most of their scoring opportunities and in the end were convincing winners. Final score Rangers 0 -7 Maghery 1 -14. Our next game is on Wednesday night next when we entertain Wolfe Tones, throw in is timed for 7. 00pm.
Junior League.
Our first match of the week was away to An Port Mor unfortunately we did not play well and returned home minus the points. Final Score Rangers 0 -10 An Port Mor 1 – 16. Next up was a home fixture against neighbours Forkhill unfortunately things did not get much better and after another poor performance we suffered another defeat. This was a game we had a number of chances to win but did not avail of them.
U18
A very disappointing start to our campaign as we went down to a comprehensive defeat to Dromintee. If we are to make any impression in this age group it will require an improved performance.
U16
We made an impressive start to the league with a comfortable victory away to Dromintee. Playing an impressive brand of football they built up an early lead which they never lost.
Posters
The club is in the process of taking down all posters erected supporting the team. If you wish to claim your posters you can call to the Rangers Hall on Saturday next between 12.00 and 1. 00pm and claim your poster.
Cairde Raonaithe Na Croise
Our club provides facilities for twenty four teams. In order to meet increased demand and provide facilities which our young people and members deserve the club are embarking on the second phase of our development programme. In order to do so the club must raise a large amount of money. Members can help out by joining Raonaithe Na Croise and agreeing to donate £20 per month for three years. By pledging your support you will be helping your club meet the challenge of the future.
Social Entertainment
Social entertainment continues in the Rangers Hall on Monday nights. The club organises this event as a social event to give to give people an opportunity to come together to enjoy an evening of conversation and fun so why not come along and give it a try.
Lotto.
The club lotto provides much needed funds for the day to day running of the club and your support is greatly appreciated. With the club involved in the championship final expenses have dramatically increased. To provide a full kit for the team cost over £1500 to hire afield to play a game under lights cost £160 other costs such as transport, first aid, catering help to swell the bill so it is vitally important that members continue to support this fundraiser. Tickets cost £1 and can be purchased from local shops or any member of the committee. If you feel you can help out by selling tickets no matter how few please contact Peadar Mc Coy or any member of the committee who will provide you with a book.
Short URL: https://newrytimes.com/?p=11834
Posted by
Declan McAteer
on Apr 23 2012. Filed under
GAA Club News and Events
. You can follow any responses to this entry through the
RSS 2.0
. Both comments and pings are currently closed.