Ballymartin club notes – 23rd April 2012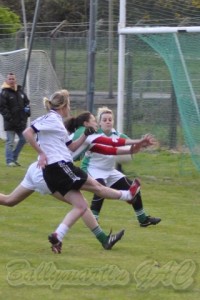 Best wishes and hope for a speedy recovery to Senior Payer and U-12's coach, Cathal Doyle. Cathal was injured on 25 mach in play against Glassdrumman. It is likely that Cathal will NOT see competitive football this year due to 'cruciate ligament' damage and pending surgery.
Best wishes to reserve player and youth coach Niall Doyle, who marries Gayle Forsythe this Friday. Best wishes for the future from all at Ballymartin GAC.
The Seniors put on a good show last Friday with their home game to Drumgath. This proved to be a great contest, with the whites putting on a great display of team-work and ball control. The forward line still needs some tightening up with fourteen wides. However, the end result was most pleasant, Ballymartin 2-13 vs. 1-9 Drumgath. This Friday the lads are on the road to at John's for a 7:30 throw-in, this will be followed with Monday 30th April when they host Tullylish in Longstone Park @ 7:30pm.
The Ballymartin Reserves started some men that haven't played competitive football in a couple of years and saw some cobwebs falling off old boots, when they hosted a strong Mayobridge panel of 30 plus men. Ballymartin had a great show of strength in the mid field and great presence in the front line, with two subs both scoring a goal Rory Phillips and Ronan McCartan.
The Baileghlas Minor squad had a long dragged out match last week when they travelled to Warrenpoint 1-17 V 1-10 Baileghlas this week they were at home in Glassdrumman, for their Round 3 match to Clan na Derg. Details next week. Next Tuesday they host Saul in Glassdrumman with a 7:00pm throw-in.
U-16's – Match Report – Cumann Naomh Iósaf .v.Naomh Eoin Bosco. Match Date: 19/04/12
The U-16s were on their travels again on Thursday, this time to Jack Mackin Park to face the Bosco, refereed by Leo Smyth. The Lilywhites began the game brightly with a new midfield partnership of Kristopher Rooney and Dan Sloan gaining good early possession. The team were wasteful though and kicked three wides in as many minutes before registering the first two scores from Ross Cunningham and Blaine McCulla. After this initial flourish the home side took over for the next 20 devastating minutes. Their first foray into the Whites' half yielded a goal and it was added to with a point soon after. The Ballymartin lads seemed shell shocked and were rocked back on their heels again with another goal after a slick move from the Newry lads with Jordan Pinnington and Darren McShane combining to set up Conor McCabe. This was to be the pattern of the half with Ballymartin proving wasteful in front of goal and the Bosco men punished every mistake with a score. They were keener to the ball and won countless break balls through Oisin Carnegie and Gary Crummy which set up wave after wave of attack. The half-time score was grim reading for the Mourne men 4-05 to 0-06.
The second half had to be attacked and the Whites threw off the shackles to a man and went at the Newry men with abandon. The defence tightened, the midfield gained a monopoly of possession and the Newry men were fighting a rearguard action. Cathal Greene was immense again at full back as was the debutant Callum Fitzpatrick putting in a great hour. Geoffrey and Conor on the wings won the break ball battle in the second period and this set the platform. The forwards got moving more coherently as a unit and began to tear up the Bosco defence. The Whites were motoring, lead by Ross Cunningham who linked very well with Niall Quinn and Ethan Smyth the scores began to come and after registering three goals, two from Ross and one from Ethan, soon there was only four between them with seven minutes on the clock. The Bosco men to their credit were able to take a few vital scores in the second period but the Whites kept coming. With three in it Ross pointed from a free to leave it that a goal could take the points. It wasn't to be as Leo blew the final whistle shortly after a Bosco point. The final score line was Naomh Eoin Bosco 5-11 vs. Ballymartin 3-14. An epic comeback just fell short but lessons will have been learned that we hope we can bring into the next game on Thursday (tomorrow @Home), night against St Paul's, Hollywood at St Colman's with a 7:00pm throw-in. Next week's round 5 match is away to Kilcoo @7pm.
U-14 Baileghlas squad had a bye this Monday past. The next match is Monday 7th May, when they are at Home in Glassdrumman against Atticall with a 7:00pm throw-in. Coaching continues in St. Colman's, Kilkeel at 7:00pm.
Our U12s took part in an enjoyable Blitz at Rostrevor last Sunday. They are on the road this Sunday morning again when they take part in the next series of Blitz at Mitchells with their first match at 10.30 am when they take on Mayobridge Ogs. The bus will be departing Pats Road at 9.30am sharp. Coaching for U-12 boy's tomorrow evening (Thursday) at 6.00pm at St. Colman's Pitch, while we wait for the preparations at Carrigenagh Road Playing fields to be completed.
Senior ladies had a great game on Saturday evening defeating their old nemeses Newry Shamrocks. Match Report – Ballymartin Senior Ladies vs. Shamrocks 21-04-2012
NO GUTS NO GLORY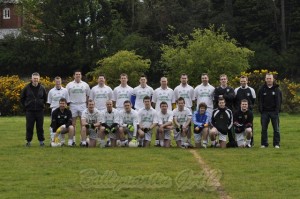 Ballymartin ladies met their old nemesis Shamrocks on Saturday past in Dunaval and it turned out to be a thriller. It's not often referees comment after a game about how competitive it was and the level of football that was played – so this indeed highlights how good the game was.
Ballymartin started with the wind in the first half but were under the cosh from early on when Orla Fegan cut through the defence like a hot knife through butter to fire the first point. It was taking Ballymartin a while to settle again and they hit a few wides from scoring positions much to their own frustration. Carol Rafferty was first on the score sheet for the lilywhites with a great point and this was quickly followed by the terrible twosome Lauren Cunningham and Caroline O'Neill firing over points to put a bit of breathing space between the teams.
Shamrocks responded with a brace of points themselves to make the game all Square. Now a number of things happened. Firstly Ellen Marks moved out to wing half back in a swap with Jacqueline O'Neill, Danielle Newell dislocated her finger and had emergency work carried out on the pitch before continuing to play a 'stormer', Caroline O'Neill switched to midfield to allow Danielle to sit on the edge of the square. Michaela Cunningham and her sister Rebecca switched positions momentarily. This all seemed to upset the balance of the Shamrocks team as their players were chasing shadows around the pitch trying to keep Ballymartin at bay. The only problem, however, was that Ballymartin forgot their shooting boots!!
They did manage to tag on another two points both from Lauren before they were awarded a penalty. Ruthless Collins found herself in good space and was fouled in the area. Danielle stepped up to smash the ball well wide more out of frustration than a bad shot. She did, however, redeem herself within seconds after a poor kick out from the shamrocks keeper saw Caroline O'Neill leap like a salmon. She was fouled and hit a quick free over the top for Danielle to smash the net with a fine effort. This was it now – Ballymartin were beginning to flow. They hit another point from Lauren and when Danielle found herself one on one with the keeper she was fouled and dusted herself down to hit the second penalty to the net. A great mark of a player who doesn't let failure on the first kick put her off.
The half time whistle sounded and Ballymartin were in front by 2.06 to 0.04 – but with the wind on their backs – Shamrocks would surely fancy themselves in the second half.
The second half started with a point after 16 seconds for the Shamrocks. They were showing that they meant business. They were dominating possession in the middle of the pitch through clean catches and breaking ball. Ballymartin took Jessica Collins from the bench to replace her sister Ruth(less) and this gave the whites a bit of pace in the middle third.
Still the points kept flowing for Shamrocks. They were quite content to keep pegging the score back point by point. Now it was time to roll up the sleeves and be counted or let the Shamrocks walk away with the game. By the mid- point of the second half there was two points between the sides – with Ballymartin yet to score in the half. A number of players grew in stature at this stage and started to show the crowd that had assembled a "NO GUTS NO GLORY" attitude. From Louise Rodgers to Christine Burns to Michaela Cunningham to Orla "Charlie" Doyle – the girls started to tackle with fierce intensity. The forwards finally awoke from their sleep to get stuck in to the Shamrocks. Now with this platform in front of them – Shamrocks were finding it increasingly tough to break down the Lilywhites. In the 22nd minute Ballymartin hit their first score of the half to push themselves in to a lead of 3 points. It was however, in the 24th minute when the ball fell to Lauren "Mighty Mouse" Cunningham and she hit the back of the net with ease to leave the lead comfortable. Shamrocks were not done yet and hit another 4 wides on the trot. A break up the field saw them on the 21 yard line with goal on her mind Sinead Fegan pulled back to kick – but out of no-where came Caroline O'Neill to block down the kick, retrieve possession and pass to Sinead Brannigan. Sinead took off on a mazy run and fed Laura Sloan who split the posts with a great score. Fantastic team score.
hamrocks were visibly tiring now and Ballymartin were showing their fitness and running at them in droves. With Jacqueline O'Neill taking an "enforced break" this allowed another run into the Ballymartin rearguard but saw the terrible twins Lauren and Caroline carry out their defensive duties with aplomb. Caroline blocked again and Lauren cleared her lines to Sinead Brannigan. Sinead played a ball up into the top corner of the pitch and Danielle Newell looked to have an impossible angle – the keeper was off her line and Danielle drove the ball as a defender came in to block, the ball blasted through the block and lobbed over the keeper's head, into the back of the net for a fantastic goal from a player who got a hat-trick on the night. This closed out the game and a few injuries left the long whistle delayed for a further 4 minutes. Neither team scored, and Ballymartin were winners. A fantastic team effort from all the girls. Serious concentration, fitness, intensity and giving the ball to the player in the best position saw them conquer a team they haven't beaten in their previous 7 attempts. Next up for the ladies is Mayobridge away on Saturday 28th April at 7pm.
U-16 Ladies had a great match on Sunday when they travelled to Tullylish to meet the combined forces of Annaclone and Tullylish (Annalish). The girls performed well in all areas and did the coaches proud with the final result defeating Annalish by two points, Annalish 3-05 vs. 4-04 Ballymartin. The ladies have some seven weeks to prepare for their next outing, when they host Kilcoo on the 10th June.
U-14 Ladies are on the road this Sunday 29th April for their first outing when they travel to Loughinisland for a 12:30 throw-in, meet at Pats Road, details at training session in St. Columban's College at 6:00 till 7:30pm on Thursday.
Lotto Numbers for Sunday 22 April; 3, 6, 7, 22. No Jackpot Winners – Next week's Jackpot now stands @£ 11,400. 15 People Matched 3 Numbers, Congratulation to all the lucky winners.
Lotto ROTA Team 'D' 27 Apr – Y. Fitzpatrick (Leader), S. & P. Fitzpatrick, C. Bailey, E. Ward, P. & M. Doran, C. Higgins & G. Quinn.
Short URL: https://newrytimes.com/?p=11855
Posted by
Declan McAteer
on Apr 23 2012. Filed under
GAA Club News and Events
. You can follow any responses to this entry through the
RSS 2.0
. You can leave a response or trackback to this entry