Carrickcruppen club notes – 9th April 2012
Posted by
Declan McAteer
declan@newrytimes.com
Wednesday, April 11th, 2012
GAA Club News and Events
THAT's AMORE!
Ladies and Gentlemen that time has arrived for arguably one of the social events of the year. That's right the Carrickdale Hotel will play host to 'That's Amore' on Saturday night, the 14th April 2012, with Acts from all corners of the country, and the globe for that matter. The main act of the evening is the fantastic tenor, Ryan Morgan who will be singing all your favourite songs from the Musicals. Ryan Morgan is a Welsh lyric tenor, now based in Ireland. Recent high profile performances have included the National Concert Hall (Dublin), Thomond Park rugby ground, Ulster Hall, Dublin Castle, Cork City Hall, Kilruddery House, and Kinsale Arts Week. In the past, he has sung at the Royal Albert Hall, Massey Hall (Toronto), St David's Hall (Cardiff), Cork Opera House, and the Basilica Santuario de la Vera Cruz (Caravaca, Spain). He studies with internationally acclaimed vocal coach Dr Veronica Dunne at the Royal Irish Academy of Music. He has also received training from other well-regarded vocal coaches, including Robert Beare, Robert Alderson, Sigrid Herzog and Ingrid Surgenor MBE. Ryan is a multiple-prize winner, receiving accolades for Grand Opera,Oratorio,Musical Theatre, Lieder, Art Song, Early Music and Sacred Singing. He has been awarded the Henry O'Callaghan Memorial Perpetual Trophy for Most Promising Performer at Feis Maitiu, Cork. He has received several commendations at Feis Ceoil, the Irish national music festival.He has appeared in a number of productions, including Handel's Messiah, Beethoven's Mass in C, Rossini's Petite Messe Solennelle, Gilbert and Sullivan's Trial by Jury, and Bizet's Carmen. He has also sung with the Three Tenors Ireland, the Band of An Garda Siochana, the Irish Army Band, the Royal Irish Academy Symphony Orchestra, and the Cork School of Music Concert Orchestra. He has performed for Ministers of Government, Ambassadors, the inaugural voyages of cruise ships, and a variety of arts festivals. Ryan will be accompanied on stage with lead musicians from the RTE Orchestra such as Brona Cahill and Eimear Heeney on violin and Richard Coady on piano. Also starring on the night are the fabulous Flynn sisters, Fiona and Rachel, Leanne Carragher, The storyteller Brendan Cleary, Recitations from Niamh Devine and Donal Morgan, African Drumming from the pupils of St. Paul's High School plus many, many more. There are still a few tickets remaining and anyone wishing to purchase tickets can do by contacting Anthony Keenan on 07857957527 or at the Carrickdale Hotel on (00353) 429380900 where they are doing special offers on dinner before the concert or overnight deals. You must make reference to 'That's Amore' to avail of these deals. Tickets are £20 and for the entertainment that is on show is definitely well worth the admission fee, it is a perfect opportunity to experience some of Ireland's up and coming talent. A night not to be missed!!! All proceeds from the concert will go to Carrickcruppen club funds.
EASTER CAMP
Our Easter Camp will begin on Tuesday 10th April, 2012. The Camp as usual incorporates various activities for boys and girls aged 6-15 years old. All coaches that will be used during this Easter Camp have the recognised qualifications in G.A.A. Coaching and Child Protection. A major feature of this four day camp is the coaching of Gaelic Football. This coaching is ideal for children who are interested in developing their skills within a safe environment of fun and enjoyment. The course will commence at 10am til 2:30pm daily, and will conclude on Friday 13th April, 2012. There are limited places available on this camp and anyone wishing to enrol can do so by contacting Anthony Keenan, alternatively application forms will be given to all children at their training this week.
UNDERAGE FOOTBALL
Training for U10's will take place on Friday night in the field from 6pm til 7pm. Training for U12's will take place on Wednesday night in the field from 6:40pm til 8pm. Training for U12, U14 and U16 girls will take in the field on Wednesday night at 6:30pm. Training for U14's boys take place on Monday night from 7pm til 8pm and on Thursday nights from 6:15pm til 7:30pm. We are asking all children to bring £1 with them to cover the expenses of the training facilities.
CLUB LOTTO
There was five match 3 number winners and next week's jackpot stands at £1850.00. The winning numbers was 3, 9, 14 and 26. The lotto provides the club with much needed income and if any member can help out on a weekly basis by either selling tickets or even by buying a few tickets they can contact Gerry McDonnell on 02830 839280.
IRISH DANCING
There are Irish Dancing classes in the club every Tuesday and Thursday from aged 4 upwards. All levels of dancers and new participants are welcome. Anyone wishing to attend the Irish Dancing are asked to contact Sarah Barry on 07985589084.
ENTERTAINMENTS COMMITTEE
The next Entertainment Committee meeting will take place next Thursday 12th April at 8pm and any member of the Club who has tickets for the fundraising night 'That's Amore' in the Carrickdale Hotel are asked to be in attendance to return all monies from tickets that have been sold.
CLUB NOTES
Anyone wishing to have put anything in the Club notes are asked to do so by email Carrickcruppenpro@gmail.com or by contacting Brenda Hughes on 07773386457 or Anthony Keenan on 07857957527.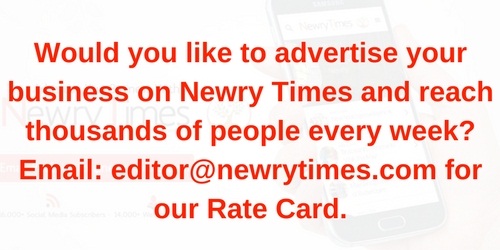 Both comments and pings are currently closed.