Killeavy club notes – 26th March 2012
Killeavy 7s Won by Donaghmoyne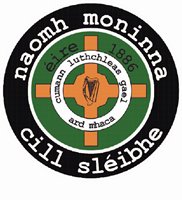 On a wonderful Saturday morning, 17 teams from Armagh, Monaghan, Down, Derry, Antrim, Tyrone and Dublin took to the pitches of Killeavy for the third annual Killeavy Ladies 7s.
It was a tremendous feast of high quality football right from the start, with the groups very competitive. Donaghmoyne, Carrickcruppen , Clann Eireann and Carryduff won the four groups.
As the cup competition progressed, Clann Eireann beat Carrickcruppen but faced a very accomplished Donaghmoyne team in the final, who had overcome Carryduff in the semis.
Donagmoyne answered all the questions that two time winners Clann Eireann asked of them to win the cup.
In the shield, Killeavy won their way through a tough semi against St Galls and managed to overcome the challenge of Dromintee in the final to take their second shield competition of the season. The tournament was a triumph of organisation,thanks to so many members, whether it was inviting teams,cooking meals or refereeing.
Well done to all involved in what was a truly memorable event. There are loads of pictures on the web, and a big thank you to all our sponsors, especially main sponsors Newry Golf Inn and NC Dental Practice.
Congratulations St. Pauls
We would be happy to congratulate St. Paul's school on their success in the McLarnon Cup competition even if they had no Killeavy players involved. It does however make it all the sweeter when Killeavy plays such a part in the victory. We now have four more players, captain Michael Murphy, man of the match Ciaran O'Hanlon, Jamie Cosgrove and Míceál McNamee who can proudly claim an Ulster medal among their trophies. Well done to our four lads and the entire school. Not only did the lads bag a McLarnon Cup, but went on to beat St. Colman's, Fermoy in the All-Ireland semi-final on SAturday past.
The coverage from St Pauls twitter @stpaulsbbrook , and website http://www.stpaulsbessbrook.org/, has been excellent, and I would recommend Killeavy Gaels following the exploits of the team on these sites. Specific links for the reports on the games include http://www.stpaulsbessbrook.org/sport/all-ireland-final-for-st-pauls/ and http://www.stpaulsbessbrook.org/sport/boys-gaelic-football/
For those who would like the plain facts, Michael Murphy has done Killeavy proud captaining the side, and scoring in both matches from midfield. Ciaran O'Hanlon has played at full-forward and scored hevily in both matches(0-3, and 0-5) while contending heavily for man of the match honours in both games. Jamie Cosgrove has been his dependable rock solid self at half back, while Miceal McNamee is one of the youngest members of the squad, still under 16, and showing terrific potential!. Keep it going lads in the All-Ireland final against Ardscoil Ri from Dublin in the All-Ireland final!
Scor – Ulster Final
Our solo singer Anne McCormick, and our ceili dancers were in action in the Ulster final of the scor in Derry on Saturday night. Unfortunately,this proved to be the end of the line for our tremendous acts, in a very high quality competition. However,its been a truly wonderful year for scor in Killeavy, and we would like to congratulate all our acts on contributing to Killeavy's title as Armagh club of the year!
Twitter, Facebook and Website
Follow Killeavy GAA on all these media. There has been so much happening in our club since st patricks day, that in order to keep up with all live reports, photos,and post match analysis, you really need to bookmark www.killeavygaa.com on the web, Killeavy GAA on facebook and KilleavyGAA on twitter. In many cases, there are immediate uptodate scores from matches and events like the ladies 7s, and people share many photos of St Patricks day etc on facebook. #InformationOverload!!
Underage Games are Back
On a glorious Sunday morning hundreds of kids/parents/coaches from u6 to U10 were back in Killeavy on Sunday morning at 10am, as the season re-started. Its great to start the year in sunshine,and there is plenty to look forward to for the coming season!
Challenge Match Success
With the leagues fast approaching, our seniors , u16 and seconds had good wins this weekend against Corduff, Bryansford and Rosstrevor respectively. The seniors kick off at home to Sarsfields on Sunday (April 1st) at 2pm at home to Sarsfields. Best of luck to all our teams!
Killeavy advance in Feile Shield
Killeavy 3-12 v Armagh Harps 5-3. Killeavy U14 bounced back from their Feile cup defeat to Ogs, by beating the other Armagh city side Harps in a very entertaining Feile shield game in Killeavy on Sunday afternoon. Killeavy looked the better side in the opening half, but several scrappy goals conceded kept Harps very much in the game. A penalty from fullback Daniel Boyle was one of the highlights of the half. HT: Killeavy 3-8 v Armagh Harps 3-1
The second half followed the same pattern. Good play from the likes of Michael Cromie, Cathal Nugent, Niall Doran and Kealan King led to some good Killeavy scores, but several slack goals for Harps meant the game was alive right to the final whistle, as keeper Keith Garvey was called on to make saves on several occasions.
In the end Killeavy just held out for the win! Well done lads.
Underage Training
• Hurling training sessions for our u14 panel will begin on
Monday 26th March at 6.30pm sharp.
• Our u12s can double up on their skills on Thursday nights
with football training from 6.30 – 7.15 followed immediately
by hurling training from 7.15 – 8.00pm. Sessions start this
Thursday 29th March.
• Our u10 footballers commence training this Sunday 25th
March at 11.00am.
• u6 and u8 training will also start this Sunday 25th at
10.00am. All children should bring both boots and runners.
• u8 hurling (P3 & P4) girls and boys starting Saturday March
31st at 11.00. Indoors if raining. P1 and P2 hurling continues
on Saturday mornings at 11.00am. All welcome.
• u10, u12 and u14 Camogie training on Tuesdays ‐ 6.45pm ‐
7.45pm sharp. Parents' meeting this Tuesday at 7.45pm.
Any children who have not yet registered as members for 2012
can pay their membership to the team managers at these
training sessions.
Go raibh maith agat
Over £450 was taken in by the club's Irish Language collection at the St. Patrick's Day masses. All of this money will be shared between students from the parish attending Irish language courses in the Gaelteacht this summer. Details of how to apply will appear in the bulletin later in the year.
Help needed
We urgently need people to come forward to offer help with managing both our u12 boys and u12 girls teams. We do realise that this can be a big commitment but the more people we have then the easier it is to share.
Firewalking – Whatever next?
Our hurlers have come up with a unique idea that will allow you to take part in a genuinely thrilling mind expanding experience while at the same time helping to raise valuable funds for our club?
Killeavy GAC will host a firewalk on Saturday 28th April. It is open to anybody over 14 though if you are between 14 and 18 you will need signed parental/guardian consent. Full training will be given for this once in a lifetime experience. Sponsor cards will be available from next week. It is believed that some big names around the club have already signed up for the firewalk. This is one event not to be missed – either for those taking part or just watching. Further details to come.
Short URL: https://newrytimes.com/?p=9436
Posted by
Declan McAteer
on Mar 26 2012. Filed under
GAA Club News and Events
. You can follow any responses to this entry through the
RSS 2.0
. You can leave a response or trackback to this entry