Irwin slams fuel price hike in 2012 Budget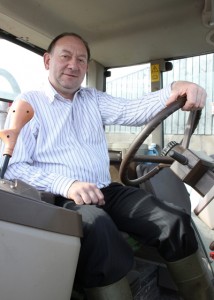 Newry and Armagh DUP Assemblyman and Stormont Agriculture Committee member William Irwin has criticised the budget announcement that fuel prices will rise by an extra 3p per litre from 1st August. Mr Irwin, who with his son George operates a dairy farm near Armagh, said the price rise would really test the industry this summer given that the proposed rise comes in at a time when farms are at their busiest.
Speaking to Newry Times, Irwin said, "The Coalition has really struck a body blow to rural dwellers and farmers in Northern Ireland, especially when you consider that Northern Ireland has the highest fuel prices in the whole of Europe. The amount of fuel used on a farm is considerable but really escalates during the summer when machinery is spending a lot of time on the road and in the field at high revs which of course consumes fuel at an alarming rate."
"The 3p per litre rise in August this year is going to have a detrimental effect on farming and of course our haulage industry and it is a very worrying time. Energy prices are continuing to rise and there is no way to avoid the costs of fuel and I feel that David Cameron knows we can't do without fuel and therefore it is a very soft target for extra revenue."
Irwin continued, "Our entire agri-food industry relies on transport, be it from the field to the processor or from the processor to the supermarket. Everyone in this conveyor needs to cover their fuel costs and these costs have to be passed down the line. In my view that means the farmer will bear the brunt of these costs at the farm gate. Whilst the agri-food sector continues to perform strongly I can't help but feel that the relentless rise of fuel and energy prices could put a severe spanner in the works."
"In rural areas families rely heavily on their vehicles for getting around and given the fact in Northern Ireland many people have to drive significant distances to work as public transport isn't as wide reaching as in other parts of the UK there is much concern amongst drivers. The Coalition needs to wake up this reality and back off on fuel prices as it is unsustainable for farmers and the public in general to meet these scandalous prices rises," the DUP MLA added.
Budget Special:
SDLP's Dominic Bradley critical of Chancellor's budget
Conor Murphy: 'Any benefits will be wiped out by fuel duty increases'
Newry Times Budget 2012 special
Short URL: https://newrytimes.com/?p=9119
Posted by
Newry Times News
on Mar 23 2012. Filed under
Budget 2012
,
Community
,
News
. You can follow any responses to this entry through the
RSS 2.0
. You can leave a response or trackback to this entry