Smithwick Tribunal: 'Up to 70 people may have been involved in RUC murders'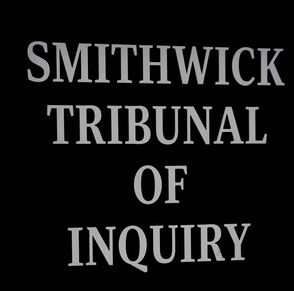 The Smithwick Tribunal has revealed that up to 70 people may have been involved in the murders of two high ranking RUC officers in 1989. The Smithwick Tribunal heard from retired British Army Brigadier Ian Liles, who worked as an intelligence officer in the border area at the time of the ambush. Speaking about the hours leading up to the murders, Liles said that radio traffic between IRA members started between 11:30am and 12 noon on the day, just hours before Chief Supt Harry Breen and Supt Bob Buchanan left Newry RUC Station to cross the Irish border.
The public hearings, which began on Tuesday 7th June 2011, aim to establish whether there was Gardaì collusion in the Provisional IRA murders of two senior RUC officers  near the border in 1989. Smithwick has called in evidence from a wide range of sources since it began last June. The legal team for the Tribunal held face-to-face meetings with three former Provisional IRA members in recent months, one of whom allegedly had a commanding role in the attack. According to the legal team, the Provisional IRA members gave "detailed accounts" and replied to all questions from the inquiry team.
Newry British agent Kevin Fulton, who also released a detailed book (Unsung Hero) – documenting his Provisional IRA and covert British Army career – told the Smithwick Tribunal several months ago that there was "not a day when the IRA was not trying to kill a member of the security forces." Fulton went on to tell Judge Smithwick that he had been supplied with a Triumph Dolomite car by the security services and asked to drive through notoriously IRA active parts of South Armagh to check for checkpoints.
The two RUC men, the two highest ranked police officers killed during the 'Troubles', were killed on their way home from Dundalk after a secret meeting with senior Gardaì officials. Last year the Smithwick Tribunal heard how Chief Superintendent Harry Breen and Superintendent Robert Buchanan had promised not to cross the Irish border just four days prior to their murder. One witness spoke of his 'surprise' that Buchanan had crossed the border a staggering ten times in the four weeks before his murder.
Liles transcript of evidence, which was read out at the Tribunal, told of how he took up the role of Intelligence Officer along the border in the weeks after the RUC murders. He explained that there was analysis of information which suggested, in his view, around 70 people may have been involved in the ambush. He described how some of that figure would have been 'beaters' – who would check and beat hedges in the area to check for British army patrols before removing nearby arms – and others he described as 'spotters' – who would have been involved in looking out for patrols in the area – and then the gunmen actively involved in the murders.
The hearing continues.
Short URL: https://newrytimes.com/?p=5465
Posted by
Newry Times News
on Feb 10 2012. Filed under
News
. You can follow any responses to this entry through the
RSS 2.0
. You can leave a response or trackback to this entry