Rogers meets Irish farming Minister
Posted by
Newry Times News
info@newrytimes.com
Sunday, April 21st, 2013
Politics
South Down SDLP Assembly Member Seán Rogers met Simon Coveney TD, Irish Minister for Agriculture, Food and the Marine at an SDLP event in Newry entitled, "Ireland's Food and Farming Future".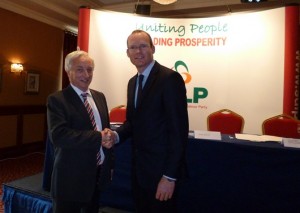 Rogers said, "I was pleased to have had the opportunity to speak with Minister Coveney and put forward the ongoing flight of our local farmers. Many farmers lost hundreds of animals each. "The breeding stock that farmers would have retained for next year, for many, will have to be sold to generate income to cover conacre etc. The knock on effect of this is devastating as it leaves no pipeline for next year's business. "The Force Majeure must be extended for the next few years to allow farmers to rebuild their stock levels – especially for the self-contained flocks on the mountains as this process will be longer. Rogers continued, "In many areas there is little to no available grass so the ewes are no longer producing milk, as they are starving. Across the countryside we are seeing sheep with the "greyhound affect". The lambs too are not strong enough to survive. "We are now past the Department's deadline for the free collection of animals however this must be extended until at least the end of May, as there will inevitably be many more losses in the weeks ahead. "A number of farmers suffered severe damage to their property due to the physical weight of the snow. The roofs of many sheds fell in causing serious damage and in some cases totally destroying the full structure of the shed, as well as ruining stored fodder and machinery. "Consideration must be given to suitable housing for sheep in the winter and also some type of compensation for farmers whose sheds were so badly damaged. In many cases insurance cover for the outhouses was null and void. "Short term finance is needed and is needed urgently. Farmers still haven't received a penny from the Hardship Fund that was approved by the Executive. Many farmers have no funds and little to no flexibility to lever funding from their banks. The South Down MLA added, "A Rural Improvement Scheme is needed which would provide for shed improvements/rebuilds. Over the years we have seen the regeneration of our towns and villages but the rural areas have little to no investment from an improvement perspective. "This would also provide much needed employment within the rural community which would contribute to the local economy. These local farmers need assistance from the European Union, as the package from the NI Executive is simply not adequate. "The Department of Agriculture needs to be careful as we could be experiencing the beginning of the demise of sheep farming in Northern Ireland unless something major is done to assist."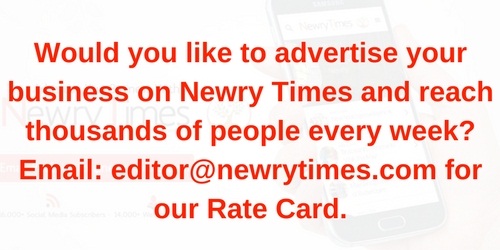 Both comments and pings are currently closed.