The Newry Times guide for driving and surviving in the snow
Posted by
Newry Times News
info@newrytimes.com
Friday, January 18th, 2013
Community
,
News
With light snow and sleet already peppering Newry & Mourne and more snow expected over the weekend, Newry Times has compiled the ultimate local guide to driving and surviving in the snow.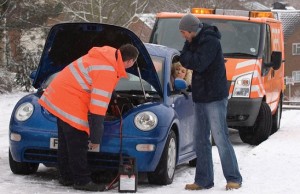 With breakdowns a staggering 54% more likely in freezing weather and tens of thousands of breakdowns expected this winter, it is vital to keep up to date with all the latest advice to stay on the road. As drivers crank up their car heaters for the months ahead, we reveal the most common causes of winter breakdowns and how best to prepare vehicles for the cold, with some simple maintenance checks. Car battery failures are the top problem faced. According to the RAC call-outs for this issue increased by 92% during the UK's last 'cold snap' in February, with over 10,000 batteries a week being replaced. Similarly, problems with starter motors rose by 48% and call-outs for spark plug issues shot up 41% in sub-zero temperatures. Burnt-out clutches, typically caused by excessive wheel spinning on snow and ice, were also a common complaint, rising by 16%. The RAC has also revealed that a large number of winter breakdowns could be easily avoided if drivers took a little time to prepare their cars in advance. For example, during freezing weather over 1,650 breakdowns each month are caused by a lack of anti-freeze, while a further 530 could be avoided if drivers took the necessary steps to check and maintain their batteries.
Top 5 avoidable causes of Winter breakdowns:
Issue – Solution
Frozen engine
–
Top up the cooling system with correct anti-freeze mix
Battery connections –
Check, tighten and apply anti-corrosion/petroleum jelly as required
Run out of fuel
– 
Always ensure you have enough fuel as journey duration can increase dramatically
Blown fuse
– Defrost ice around windscreen wipers before turning on engine otherwise a stuck wiper motor may cause the fuse to blow affecting other electrical equipment
Diesel fuel filters
–
Ensure filter is replaced at manufacturer service intervals
The RAC's data also showed that it attended 50% more road traffic accidents in icy conditions and so is warning drivers to take extra care this winter when temperatures drop below zero such as increasing your distance from the car in front. RAC technical director David Bizley explained to Newry Times, "We have some of the most erratic weather conditions in the world. Bright sunshine can turn to snow or hail in a matter of minutes, so it's essential to ensure you don't delay preparing your car until bad weather hits. "Making a few simple checks to your vehicle before the cold weather really sets in could make the difference between spending hours in the freezing cold or a night in front of the fire." While we can't predict the weather, there are various steps which drivers can take to make themselves less prone to breakdowns during the winter months. From checking your oil to packing a torch, here are the RAC's top tips to ensure you don't grind to a halt in the cold this year.
Preparing your car:
Battery
– Cold weather, coupled with increased use of lights, wipers and heating, can wear down your car's battery during the winter. If your battery is over four years old it could begin to become temperamental so get it checked and/or replaced before the coldest weather sets in.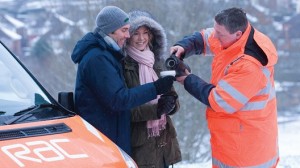 Coolant
– Ensure that coolant is between the minimum and maximum markers. It is also important that there is sufficient anti-free in the coolant. If you're uncertain, have a look at your handbook or get a local garage to check the strength. Anti-freeze is cheap but damage from a frozen engine can be very expensive to put right.
Screenwash
– Windscreen washer fluid and anti-freeze are more crucial during the winter, so ensure that this is well topped-up before the cold weather arrives. Use a good quality windscreen wash that protects down to at least -35C to prevent the water from freezing. If you don't your windscreen wipers could be rendered useless in extreme conditions. As at any time of year, checking your oil level regularly is an easy way to reduce your risk of engine problems.
Lights
– Some cars will be driven for much of the summer without using the lights at all, so any problems may go undetected until they are needed. Therefore, a thorough check of all the lights on your car (including indicators, fog lights and full beams) is advised before winter sets in.
Wiper blades
– Check that your windscreen wiper blades are up to the task of dealing with heavy rain or snow before setting off on your journey. Replacing them is cheap and simple and could prove vital in getting you to your destination during poor conditions. One tip to keep your wiper blades in good condition is to never turn your wipers on before removing ice from the windscreen, as this can damage the blades.
Tyres
– Fitting winter tyres to your car will make it much better-equipped to cope with hazardous driving conditions. However, even if you stick with your regular tyres, you must make sure they're up to scratch. As well as looking for any obvious signs of wear or damage, check the pressure of each tyre regularly and also ensure there is adequate tread depth. And don't forget to check the spare as well – if your car has one.
Packing your car:
We all know that even the best-laid plans can sometimes go awry, and sometimes even the most diligent drivers can be caught out by an unexpected breakdown. So it's best to be prepared for every eventuality by ensuring that your car is equipped with all of the following in case you run into any trouble during the winter months:
De-misting pad
Torch (ideally wind-up so you never run out of battery)
Spare screen-wash
De-icer
Ice scraper
Blanket
Shovel
Phone charger
Map
Square of carpet (useful for giving your tyres extra grip if slipping on snow or ice)
Advice: Driving in icy conditions
Only drive if it's absolutely necessary and don't be afraid to turn back if you think the conditions are too treacherous.
If you're driving to meet someone, let them know where you are travelling and when you expect to arrive.
You may need to leave as much as 10 times the normal recommended gap between you and the car in front.
If you do encounter a skid, steer into it – for example, if the rear of the car is sliding to the right, steer to the right. Do not take your hands off the steering wheel or stamp your foot on the brakes.
Controls such as the brakes, as well as the steering, accelerator and even gear changing should be operated both smoothly and slowly.
Stay in a higher gear to aid traction. Select second gear when pulling away, easing your foot off the clutch gently to avoid wheel-spin.
Wear comfortable, dry shoes: cumbersome, snow-covered boots will slip on the pedals.
If you have an automatic, in slippery, snowy conditions you can make driving much safer by selecting '2', which limits the gear changes and also makes you less reliant on the brakes. Many modern autos have a 'Winter' mode which locks out first gear to reduce the risk of wheel spin.
Keep your speed down; try to maintain a constant speed. Gentle manoeuvres are the key to safe driving.
When climbing a hill avoid having to stop on the hill by waiting until it is clear of other cars or by leaving plenty of room between you and the car in front. Try to maintain a constant speed, choosing the most suitable gear well in advance to avoid having to change down on the hill.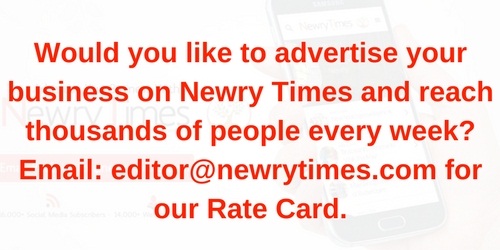 Both comments and pings are currently closed.