Public urged to be cautious over phone and magazine scams

Posted by
Newry Times News
info@newrytimes.com
Tuesday, January 31st, 2012
Community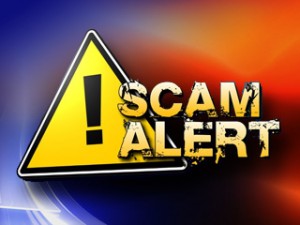 The police are advising local schools and businesses to be wary of unsolicited phone calls asking them to advertise in magazines that they are not familiar with. The advice follows a report that a business in the Kilkeel area was approached on behalf of someone purporting to be from a magazine affiliated to the police. Fortunately the business owner found the call suspicious and did not give any personal details and reported it to the police.
E District Crime Prevention Officer, Paula Nicholl said, "This scam has been used by fraudsters throughout the UK, and the 'police' angle is used as a ploy to gain a degree of credibility. Genuine magazines, including those that cater for the interests of police officers, will not hesitate to tell you who they are and where they can be contacted. Our advice is that you should never disclose financial details or make commitments to pay by credit card to cold callers. Reputable organisations will give you the chance to think about your response."
Ms Nicholl continued, "Do not let anyone pressurise you into making a commitment. Take your time in coming to a decision. After all, it's your money, so think carefully about whether or not you want the advertising exposure that is offered, and also check to see how many editions are printed and where they will be circulated. The important issue is to be able to distinguish the genuine from the bogus. It's important to be cautious, even if the caller claims to represent a genuine organisation, such as one of the emergency services or a charity."
The Crime Prevention Officer added: "Quite often, fraudsters are hesitant about giving their names or telephone numbers. If someone will not do that, it gives grounds for suspicion. Any business or resident can obtain details on different types of scams and fraud on the Action Fraud website and can also report any fraudulent activity on the website at www.actionfraud.org.ukor telephone 0300 123 2040."
Anyone who has been approached in a similar nature, or needs advice on any aspect of crime prevention, can contact the Crime Prevention Officer on 0845 600 8000.
Useful tips include:
• Always note the time and date of any call and the name of the caller
• Ask for an address and a landline telephone number
• Establish exactly who the caller is acting for. If it is a charity, ask for the Charity Commission registered number
• Clarify exactly what are you getting for your money
• Ask for clear details of the publication, how many copies will be circulated and where they will distributed
• Ask to see a copy of the publication
• Never agree to an advertisement on the first call just to get rid of the caller. Ask for time to think about it, and say you will call back if you are interested
• Pay close attention to any invoice that you receive for advertisements you are supposed to have placed. Some fraudsters send out invoices in the hope that a busy accounts department will not query it.
Would you like to advertise your business on Newry Times and reach thousands of people every day? Contact the Newry Times office on 028 4062 6520 or email Paul: editor@newrytimes.com
Both comments and pings are currently closed.