Profile of Cumann Sheáin Uí Néill – Shane O'Neill's GAC Camlough

Posted by
Newry Times News
marketing.newrytimes@gmail.com
Wednesday, January 11th, 2012
GAA Club News and Events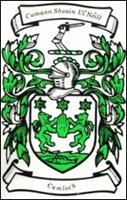 Location has defined pretty much everything about Shane O'Neills. Every year they have to throw themselves into recruitment because if they don't, their neighbours Carrickcruppen – who are located just a short walk away – will get ahead of them in the race for players.
Then there is the location of their pitch. The club needs a second field to deal with the demands of the growing numbers they are attracting. But in order to get a grant they have to spin their current pitch around to make enough space for a second pitch on the land they own.
Yet according to Brendan Osborne, the club PRO, Shane O'Neill's are a club that makes things happen because of their pride in their club. That's why they are named after Shane O'Neill, 'the Proud'.
Brendan said, "I joined the club in 2004. My children were looking to get involved. Coming from the outside, I felt a bit strange and apprehensive at first, but I can say that I was welcomed in straight away. There are a number of men who wouldn't thank me if I mentioned them who will do anything for the club if you only ask them. They are true Shane O'Neill's men."
The club was founded in 1905, replacing a previous club called the William O'Brien's that was founded in 1890. In the '60s the club fell away, but they returned in 1985. Last year, they had their greatest success when they earned promotion into Division Two for the first time in their history, and they also won their first ever Armagh Minor Championship title.
"The current team's success is due to the underage work that has gone on. Our main strength is our underage structures," said Osborne.
Shane O'Neill's field boys teams from u-6 to minor, and next year they will field their first ever girls minor football team. The u-14 boys enjoyed back to back Feel successes in 2006 and 2007, while their u-14 girls footballers represented the club at 2009 and 2010 All-Ireland Féile, despite only having started in 2009. In fact the rise of the ladies football has been meteoric. Osborne believes that there are a number of girls on the team that would put their male counterparts to shame in terms of football skills.
"I am not sure why it has been so popular, perhaps it is the camogie club. A lot of the girls have came from camogie."One of the reasons why they are able to regularly get their numbers up is because of links with the schools. There are three in the area, St Malachy's, St Joseph's and St Peters. "We visit them every year to give them information on the club, and to tell them about our coaching structures. We are on great terms with the schools," said Osborne.
"If we win a trophy then we bring it into the school or get some of our underage players to bring it into the school. That gives them a sense of pride, but we also encourage them to play for the school. That is important too. We have to keep attracting players this way. Winning will attract players for a year or two, but you have to be out there every year encouraging them to come along."
Osborne explained that during the years of success the club was slightly guilty of overlooking the recruitment aspect. But when numbers started to dwindle they had to get back out at it. Now they are back where they want to be.
"We are in competition with Carrickcruppen and Craobh Rua for players so we have to keep up the pressure, for want of a better expression. We have to keep an eye on our numbers. If you take your eye off the ball then you lose ground."
The success of their senior football team is what has given them the headlines though. The club was promoted in 2008 after winning the division four title. They won the Armagh Junior championship in 2009 and gained promotion to Division Two for the first time in 2010. Last year they managed to maintain their place in division two. "We almost gained promotion to division one but missed out on a couple of points in the last few games," he said. What is perhaps the most incredible thing about Shane O'Neill's is that despite all their teams in football and camogie, and all their success, they still only have one field.
"We have one pitch and at the moment it needs resurfaced. When it rains it becomes almost unplayable. We have used planning sheets to create a schedule so that we can get as many teams training on it as possible. But we could have a team on it from 6-7pm and then another will be on it straight after. You do that for a while but it can get out of hand. We have planning permission to put in a second field."
However, the first step is to resurface the current pitch to deal with the drainage problems. Though according to Osborne, it won't be as easy as digging up the ground and laying down some new turf.
"We had plans to build a small second training field but Stephen McGeehan from the Ulster Council visited the club and told us that if there were a chance for sports grants then it is easier to get them if you have plans for a bigger field. So we have to turn our pitch around so that we can create the space for a second full-size field [rather than a small sized training pitch."
So how do they propose they are going to pay for these changes?
They have launched a Cairde Sheáin Uí Néill. Ten pounds a month that can be paid in 12 installments or one big lump sum earns membership. The members are also assured that the money has been ring fenced for the development of the current pitch. In the future work, they want to build new changing rooms as well as getting their second pitch. That will probably be a topic of conversation on Saturday night when the club will hold their annual dinner dance at Newry Golf Club, which may be a more humble affair than recent years.
"It won't be like last year when we had a lot of cups won. But we did win a division two shield at the start of the year and our senior ladies were crowned Division 4 champions." What they may want to do, is use the night to thank their loyal sponsors, without which the club would be very difficult to run.
"When you are looking for sponsorship, it is fantastic that you can pick up the phone and you know that these people will do their best for you. Some of them are ex-members, or some have employees who are members. Others want to give something back to the community. Last year was the first year that we had a score board and that was because one of the local businesses – Country Carpets – sponsored one for us because we were up in division two for the first time."
Would you like to advertise your business on Newry Times and reach thousands of people every day? Contact the Newry Times office on 028 4062 6520 or email Paul: editor@newrytimes.com
Both comments and pings are currently closed.