Newry and County Clare partnership re-energized
Posted by
Declan McAteer
declan@newrytimes.com
Monday, December 5th, 2011
News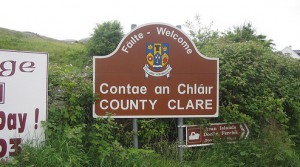 Newry and Mourne Mayor Charlie Casey has welcomed the decision to re-energise the partnership being Newry & Mourne and Clare, at the most recent Clare Twinning Committee meeting. Speaking to Newry Times, Councillor Casey said, "It is now an appropriate time to breath new life into the Newry and Mourne/County Clare twinning arrangement which is in its 24th year. This requires a commitment and a focus from Council officers in both areas to provide leadership, support and advice. In a climate of constrained resources, it is important that the key areas of tourism, cross border cooperation, cultural diversity, commerce and economic development are prioritised as strategic outcomes." Casey continued, "Despite the perception that the link has been relatively dormant for some years, there is clear evidence to the contrary. Many from both these areas with common interests such as sport, music, art and recreation have forged relationships and special links and it is imperative that Newry and Mourne Council continue to encourage and practically support all such endeavours." The Mayor highlighted two events which could prove to be ideal opportunities for a visual display of the twinning partnership, one being the staging of a St Patrick's Celebration concert and the other being the International Currach Racing Festival in August. Councillor Casey also stated that he hoped funding would be obtained for Twinning Partnership visits for sports club and he also thanked current Maiden of the Mourne Orla Walsh of County Clare for her continued support in promoting the area. Sinn Fein Councillor Pat McGinn described the meeting as tough but constructive; "I, like many, felt that it was make or break time for the twinning partnership and I believe that all elected representatives are committed to sustaining this partnership and ensuring that it is beneficial to both areas, effective, efficient and value for any money. I am involved with establishing links with Clare myself and am also aware of many groups from both areas who have nurtured special relationships. For example many from Clare travel to various sports activities in this area such as the Crooked Lake Triathlon and An Poc Fada and many athletes and sports Clubs participate in activities in the "Banner County." McGinn continued, "There is a strong bond with local musicians, drama groups and much more. What those Council Officers and all involved in the Twinning Committee need to do is to support, advise, inform and encourage those visitors who come to the area. Many people haven't a clue that this relationship exists. What I want to see from all involved is the fostering of collaboration and partnership." Crotlieve area Councillor Michael Ruane welcomed the input of Ceol Camlocha representative Tommy Fegan and International Currach Festival Committee member Tom Mc Cann at the meeting. "Both give details of events that their respective areas were organising which they believed would help reinvigorate the Clare Twinning Partnership. Involvement from local people is key to the success of any twinning arrangement and we as a Council should always keen to identify local groups and individuals that would like to get involved or establish a new link with a similar group in Clare". Council Officers from Newry and Mourne and Clare have been instructed to produce a draft strategy which would provide the basis for further analysis and debate for both the short and long term objectives of the Council Twinning Partnership.
Would you like to advertise your business on Newry Times and reach thousands of people every day? Contact the Newry Times office on 028 4062 6520 or email Paul: editor@newrytimes.com
Both comments and pings are currently closed.